Against the background of information on the completion of the operation of the Armed Forces of the Russian Federation on the withdrawal of the main contingent from Syria, alarming reports from the province of Lattakia continue to come. As reported on the eve, the Russian base Hmeimim was subjected to rocket fire. The missiles were intercepted by the Pantsir missile defense system.
After that, the militants under the flags of the so-called "free Syria" organized an offensive in the north of Latakia with the use of armored vehicles. It is noteworthy that the offensive was organized precisely in the province of Syria, where the Russian military base is located, and it was precisely those groups that took part in it, whose leaders refused to participate in the Congress of National Reconciliation organized in the Russian Federation (in Sochi).
Informational portal
AMN
reports that militants attacked government forces of the SAR in the area of ​​Ain Isa and Etiriya. The offensive was attended by units of the so-called 2nd Division of the "Free Syrian Army." During the offensive were applied
Tanks
and howitzers. In particular, we are talking about the T-55. The militants fired on Syrian government forces with guns of various calibers and their goal was clearly to break through to the Russian air base. The militants offensive was stopped. No casualties were reported among government forces in the SAR.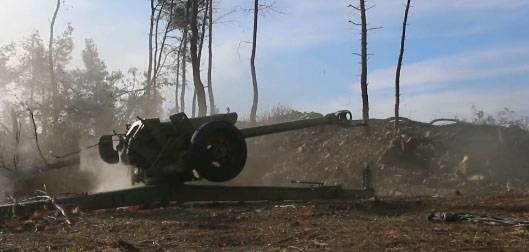 Against this backdrop, the Syrian journalist Riyad Farid Hijab recalls the statement of the representative of the Russian Foreign Ministry Mikhail Bogdanov. He noted that the further finding of the American military contingent in Syria is unacceptable, since it leads to destabilization of the situation. The events of the last day in the SAR to that is a bright confirmation
Recall that the American instructors are training the militants of the so-called New Syrian Army from among the former members of ISIL (* banned in Russia) at several of their bases, including Et-Tanf. On the eve of the General Staff noted that the territory of this base is already blocked by the Syrian army.
Riyad Farid Hijab notes that now the US has to work out new supply logistics
weapons
and ammunition to terrorists. One of such logistics routes, he said, is the supply through Ukraine and some other post-Soviet states.