The West is approaching the New Year with a dreary ending: in Germany, the "Islamization" of Christmas is frightened, and American economists are expecting the United States to turn into "just Turkey or Hungary." And even Santa Claus depressed: Russian Santa Claus is in no hurry to visit him.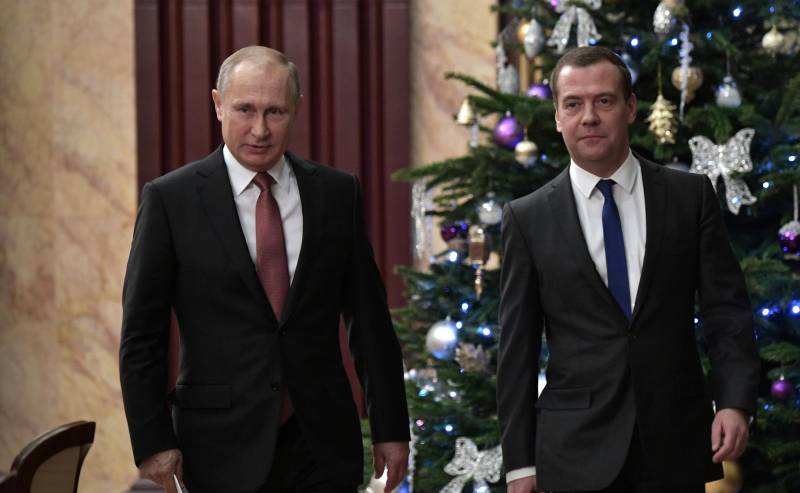 Thomas Straubhaar in the German newspaper
«Die Welt»
asked the question: Is Islamization threatening Christmas? Indeed, many Germans today believe that this Christian holiday is in danger because of the influx of Muslim migrants.
Many Germans are convinced that Christians will soon be a minority in their own country, and the Gentiles will dominate in Germany. This, so to speak, is a fact of the future, that is, a matter of time. As a proof, a well-known argument is given: women in hijabs have more children than women without hijabs.
On the other hand, according to the Office of Migration and Refugees of Germany, at the end of 2015, there were 4,7 million Muslims in Germany (5,7% of the total population of the country). In the same year, there were 23,8 million Catholics in Germany and 22,3 million Protestants, that is, more than 46 million Christians.
And why, then, do the Germans talk about Islamization?
First, the majority always overestimates the minority.
Secondly, the aliens turn into a tool convenient for manipulators.
Thirdly, it's not the number, but the differences that seem to be a threat. The media is playing on this field: the unfamiliar and the new attract more attention than the old and familiar.
The threat to Christmas from Muslims does not come, Straubhaar concludes. Another trend seems dangerous to him: in Germany, the popularity of Christianity is declining.
While the Germans are sad, looking at the 21st century Germany, departing from Christianity, some American economists are awaiting the transformation of the United States into "just Turkey or Hungary." However, America is not lost, admits outstanding economist Paul Krugman, whose material came out in
"New York Times"
.
"Many of us entered 2017 year, expecting the worst. And in many ways, the worst turned out to be exactly what we got, "seals Krugman.
Donald Trump was "as terrible as it should have been." Day after day, he proves his complete "moral and intellectual" unsuitability for the White House.
And the Republican Party itself, including the so-called moderates, turned out to be "much worse than one would expect." This party today "is entirely made up of cynical apparatchiks who want to sell each principle at a premium price and every shred of self-esteem, so long as their sponsors manage to grab more tax breaks."
Formerly conservative media in the United States have become chants of party propaganda.
Mr. Krugman still wants to finish the year with a sense of hope.
According to the economist, the United States can become "another Turkey or Hungary - a state that theoretically preserves the forms of democracy, but in practice it turns to authoritarianism." But this will not happen as quickly as many feared.
In the US, there is "strong resistance." This resistance showed itself literally the day after Trump took office. It is possible that American democracy will survive this "terrible episode" - the Trump presidency.
In the meantime, America is still "in mortal danger." The Republicans still control all the levers of the federal government, and never before have the United States been ruled by people "so little trustworthy," the author believes.
The American people can "make themselves hear." For this there are streets. For this there are ballot boxes.
There is a long battle ahead for the return of the country that America should be.
From such
News
where pessimism is more than optimism, even Santa Claus in America is moody. And then it turned out that the Russian Santa Claus was in no hurry to visit him.
Russian Father Frost held a press conference attended by a correspondent
National Public Radio
(NPR, USA).
Lucian Kim tells American radio listeners: Russia has Santa Claus, and he has a companion named Snow Maiden. These characters gave color and joy to the gray Soviet weekdays. This pair is still popular among Russians, the correspondent says.
Santa Claus (Grandfather Frost) - a serious rival to Santa Claus. This "funny old man with a beard and a bag of gifts" flies through the night sky in a sleigh with three painted horses.
When NPR's Moscow correspondent Lucian Kim learned that Santa Claus was holding a press conference, he realized that it was his journalistic duty to be there and learn as much as possible.
Santa Claus was wearing a long-crotch red sheepskin coat and a hat with precious stones. As expected, he was with a long white beard and had a magic staff. Next to him was his granddaughter Snow Maiden in blue robes, showered with pearls.
Children happily greeted this couple, clapped their hands.
As the journalist notes, the first questions turned out to be ... political!
Santa Claus was even asked if he would run for president.
"What for? - answered that. "I think my job is more important!"
Then one little girl asked if Putin would get a gift.
"Certainly," Father Frost replied, but did not specify what kind of gift it would be.
During the press conference, the American correspondent learned that Santa Claus had passed 2500 for years.
Around Santa Claus becomes colder, if bad people are gathering nearby. The most important thing for him is faith in good deeds.
Santa Claus is a wizard whose role was taken from the old Slavic myths, and not from the descriptions of the acts of St.. Nicholas, like Santa Claus. After the Russian revolution, the Communists tried to ban Christmas, focusing on the festivities on the eve of the New Year. Boris Ryzhak (Boris Ryzhak), who ran the Moscow bureau of NPR for almost two decades, "worked seasonally" as Santa Claus in the 1980s. His wife Masha played the role of the Snow Maiden.
According to Ryzhak, the biggest professional risk was food: in congratulated families, everyone tried to pour him vodka or brandy. Other Santa Clauses had to be delivered home by the end of their shifts.
Santa Claus, who gave the press conference, was completely sober. And he had to listen to almost a political question from an NPR correspondent.
The question was: "I would like to know how Santa Claus relates to Santa, and whether he plans to visit America." In response, Santa Claus said that Santa Claus is his good friend and that they are often found at international winter gatherings of wizards. True, he has no immediate plans to visit the USA. Having said this in Russian, Father Frost switched to English and congratulated the reporter: "Happy New Year and Merry Christmas, my dear friend!" ("Happy New Year and Christmas, my dear friend!").
* * *
Happy New Year, dear readers!
In 2018, love, happiness, joy, new true friends, new successes and victories are waiting for you. This year your deepest dreams will come true. The coming year will give you something that did not have time to give the outgoing year.
May there be more peace on the planet and less wars. Let more than humanity thinks about good, and less about strife and cruelty. Let the air be clear, let the sky turn blue high, let the forests roar and grow, and the fields yield rich harvests.
Raise a glass for it!