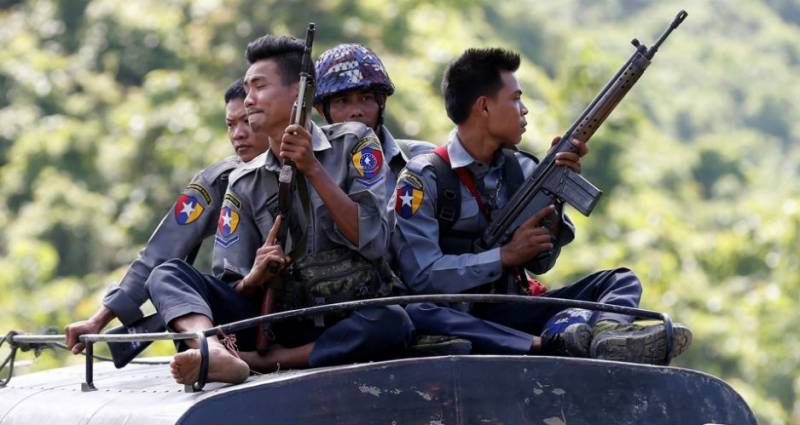 The army of Myanmar (formerly Burma), until recently, was characterized by a combination of a huge number with an extremely small amount of equipment with a very low quality of the latter. The Armed Forces of the country were focused on conducting anti-guerrilla wars with ethnic rebel groups and drug mafia.
The situation began to change only recently. A certain amount of modern technology has been acquired, a separate military industrial complex is being created, primarily shipbuilding.
Main supplier
weapons
and military equipment in Myanmar has traditionally been China. There are also Russian, Ukrainian, North and South Korean, as well as old American and British weapons and military equipment.
The ground forces are not only very large, but also have a complex organizational structure, the basis of which is constituted by regional military commands. Their 14: North, North-East, East, South-East, South, South-West, West, North-West, Yangon, Coast, Triangle, Central, East-Central, Naypyidaw (the capital of the country since 2005). Regional military commanders are united in the highest level structures - the Bureau of Special Operations There are six of them: 1-e (includes North, North-West, Central Command), 2-e (Northeast, East, East-Central, Triangle), 3-e (South, West, South-West), 4- e (Coastal, Southeast), 5-e (Yangon), 6-e (Naypyido). In addition, there are 20 operational commands equivalent to infantry divisions. In particular, the 4 is considered to be an airborne division. There is also a 10 light infantry divisions (11, 22, 33, 44, 55, 66, 77, 88, 99, 101-I), 7 regional operational commands that are equivalent to an infantry brigade) Loikaw, locale, Kalemie, Sittwe, Pyi, tanaina language , Vanhsen), and 5 armored operational commands (71, 72, 73, 74, 75-I divisions).
The ground forces also include air defense divisions (divisions) - Northern, Southern, Western, Eastern, South-Eastern, Central (each has 9 air defense battalions: 3 medium-range air defense systems, 3 anti-aircraft artillery systems 3).
There are 10 artillery operational commands (505, 606, 707, 808, 901, 902, 903, 904, 905, 909-е). In addition, there are separate battalions - 10 missile, 45 communications, 58 engineering.
11 is armed with North Korean OTP "Hwaseong-6" with a range of 700 kilometers.
Tank
The fleet includes 14 relatively modern Soviet T-72 purchased in Ukraine, and 50 new Chinese MBT-2000 (export version of the Tour 96). There are not so many old tanks either: 10 Soviet T-55s, the rest are Chinese (at least 25 Toure 59D, 80 Toure 69-II, 105 light Toure 62 and Toure 63). The armament consists of 85 antique British BRMs (45 Ferret, 40 Humber), 120 Brazilian EE-9. BTR: 26 Soviet MTLBs, Chinese Type 85, Type 90, Tour 92, ZFB-05 totaling 367, 10 Ukrainian BTR-3U, Indian MPV and French M3 each. There are 30 Yugoslav self-propelled guns B-52 Nora and 12 Chinese self-propelled guns SN-1, 100 anti-tank self-propelled guns PTL-02 also from China. Towed guns: 100 Yugoslav mountain M-48, 10 English LG, 54 Italian M-56, 126 American M101, 100 Soviet D-30, 16 Israeli M-71 and Chinese Tour 59-1. Mortars: Chinese Tour 53, 80 Israeli Soltam. In stock 30 old towed MLRS Tour 63 (107 mm).
Ground air defense includes up to 60 PU English SAM "Bloodhound" Division (4 PU) modernized in Belarus S-125M regiment (20 PU) updated in the same SAM "Square", the regiment (4 battery) contemporary Chinese SAM KS-1A ( HQ-12). Known about 200 old Chinese MANPADS HN-5, 100 our contemporary "Needle-1" and 400 "Igla", 12 Chinese ZSU Tour 80, 38 ZRPK Russian "Tunguska" and 34 AAAs (Chinese 24 74 and 10 Tour English M- 1).
The Myanmar Air Force is armed with the 30 order of old attack aircraft (up to 12 Yugoslav G-4, up to 19 Chinese Q-5) and, possibly, 61 fighter: up to 32 old Chinese J-7 (including 6 training and combat JJ-7) , 29 modern Russian MiG-29 (including 6 SE, 5 UB). Reconnaissance aircraft: American Cessna-550 and British BN-5 2. Transporters: 2 Dutch F-27 until 3 FH-227, 2 Chinese Y-12 and 5 Y-8, to 2 Soviet AN-12, 2 French and Italian ATR-72 and 2 ATR-42, 4 Swiss RS-6 , to 9 American "Cessna-180" and to 9 "Beach 1900D". Training aircraft: 6 latest Russian YK-130, at least 30 modern Chinese JL-8 (K-8) and 2 old CJ-6, Swiss PC-7 PC-9 (up to 15 and 8 units, respectively), 20 German G-120 11TR. Combat helicopters - 35 Russian Mi-13P. Multipurpose and transport: up to 17 of our Mi-11, up to 316 French SA-10, 3 Polish W-32, up to 2 Mi-205, American Bell-206 and Bell-20 (about 12). There are also UAVs - 3 Chinese combat CH-XNUMX.
Recently, the Navy has been developing quite rapidly, primarily due to its own construction. Composed of
fleet
5 frigates: 2 types of "Mahar" (Chinese project 053H1), "Aung Zeya" (mine, Burmese, with the latest Russian anti-ship missiles "Uranus"), 2 "Kian Sith" (also of its own production, with Chinese anti-ship missiles S-802). There are 2 locally built corvettes of the Anavrata type and 1 Tabinshveti with S-802 anti-ship missiles. All missile boats are equipped with the same anti-ship missiles: 2 of their own, made using Stealth technology, and 17 Chinese projects 037-1G (6 were built in China, 11 at Myanmar shipyards). Torpedo boats of the T-201 type are laid. The Navy and the economic zone security service include more than 100 patrol boats of various types. There are 7 landing boats. Marine Corps includes 1 battalion.
If in neighboring Vietnam, Laos and Thailand the drug mafia is in fact defeated, in Myanmar it continues to act almost without hindrance, and it is against it, as well as against ethnic rebel groups, that the main actions of the army are directed. Myanmar is considered one of Beijing's closest allies, but it supports the separatism of ethnic Chinese in the northeast of the country. Apparently, instructors from the PRC are directly involved in separatist combat training and even fight on their side. The relations of Myanmar with the countries of the West are extremely contradictory. During the period when the military was in power in this country, the West created another "human rights icon" from opposition leader Aung San Suu Kyi. However, after the "icon" reached an agreement with the military and became the de facto leader of the country, it turned out that it differs little from the military, at least in the methods of suppression in the west of Myanmar of the Rohingya insurgents (Muslims by religion). Which, however, also can not be called angels.
The future of the country is very vague. Myanmar is not the weakest ASEAN country, but certainly the most problematic.