The representative of the National Council on Television and Radio Broadcasting of Ukraine, Sergey Kostinsky, presents data on the "Ukrainization" of content. According to Kostinsky, the Ukrainianization of films and television and radio programs is in full swing. Kostinsky said that the content Ukrainization program was already implemented on 98%.
Portal quote
"PolitNavigator":
On average, the formal indicator of compliance with the requirements of the legislation in the transitional period of language quotas among all TV channels is 98%. This happened due to the requirements according to which the share of programs and films made in the state language is counted as a television product of its own and national production.
In Ukraine, the national regulator checks the TV channels and radio stations, as well as publications in online media and print media. Content volumes in Ukrainian should not be lower than 75% of the total amount of information offered. Many Ukrainian media solve this issue in the following way: they translate all advertising into Ukrainian so as not to drastically reduce the Russian-language share of information broadcasts or feature films.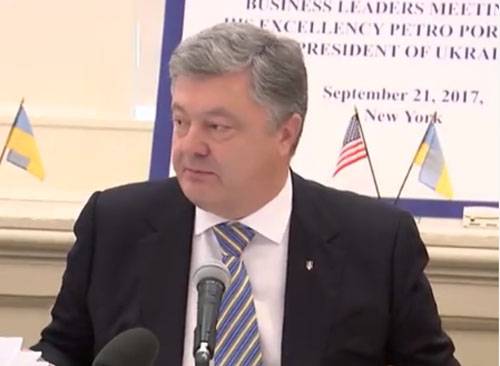 President of Ukraine Petro Poroshenko
At the same time, Ukrainian law permits not to duplicate films made in Soviet times into the Ukrainian language. However, it requires that, when showing (not prohibited) films, Ukrainian-language captions should appear on the screen.
If the channel ignores the requirements of the Ukrainian legislation, then it is expected to be fined in the amount of 5% license fee or (in case of repeated violations) withdrawal of the license.