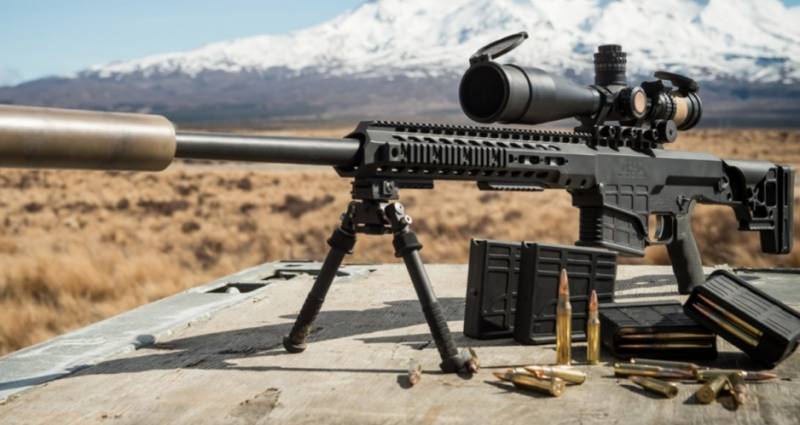 The next Ukrainian Peremoga habitually turned out to be with a distinct "zrady" flavor: American friends intend to render assistance to the armed formations of Ukraine "on a commercial basis". That is, "freebies" is not expected, and for
weapon
, the delivery of which is officially approved by the administration of the President of the United States, will need to pay in full.
Why are Barret M107A1 rifles popular in Mexico
41,5 million dollars Ukraine will have to pay for the supply of M107A1 "Barret" sniper rifles and ammunition.
Additional bitterness to this "help" is added by the fact that these rifles are already being purchased by Ukraine without any "licensing" by the White House in third countries, including Bulgaria.
Strictly speaking, for the purchase of these rifles, no special licenses are required - they are sold very willingly and in large quantities. They are in civilian circulation in a number of countries. And incredibly popular with Mexican drug cartels militants. Every self-respecting el pistolero tries to get a "typewriter" Barret, who carries armored cars of competing gangs into armored vehicles and easily sews heavy assault armor of a police special forces.
Evil tongues say, and not entirely unreasonable, that the M107A1, which is a lightweight and shortened version of the M82, is designed with the wishes of the Mexican "users" in mind. Be that as it may, the "Mexican order" constitutes a large part of the Barrett's budget.
And what, strictly speaking, is this rifle, which Washington intends to officially sell to Ukrainian punishers? It can be compared with the legendary Soviet anti-tank rifle PTRS (Anti-tank self-loading rifle, model 1941 of the Simonov system), used during the Great Patriotic War. His niche was the fight against light armored vehicles and pillboxes, bunkers, covered with armor, as well as low-flying aircraft.
Actually, the same designation basically, and in Barrett's "anti-material" rifle - fire on light armored vehicles, on cars, radar stations, antennas, helicopters. In addition, it plays the role of "counter-sniper weapons." By the way, the Soviet PTRS is somewhat more powerful, since it uses the 14,5 x 114 mm cartridge, against the American 12,7 x 99 mm, and is successfully used in Donbass by both sides.
Of course, the M107 more advanced weapon with high accuracy of fire is a whole rifle complex with a modern optical sight, a laser rangefinder and a ballistic calculator. It should be noted that the Barret rifle received wide recognition in Afghanistan, where it was used with great success by reconnaissance and sabotage groups. Strictly speaking, this large-caliber rifle is the weapon of saboteurs operating as part of small groups. And it is precisely in this capacity that the Barrets already available to the Ukrainian militants are being used. Moreover, the sniper terror carried out by them from the "gray zone" is aimed not only against the defenders of Donbass, but also against civilians.
Kiev will pay 10 dollars for one cartridge
Large-caliber rifles supplied by Americans will not bring victory to the Ukrainian Armed Forces, they will not help to improve or strengthen the position of the Ukrainian formations. But their use under certain conditions may well more strongly twist the spiral of violence, provoke new clashes.
It can be added to this that the sale of these rifles to Kiev completely falls into the concept of Trump, according to which the "security" of the American satellites should be a source of profit for the United States. For example, for each cartridge to the M107 Kiev will have to pay about 10 dollars. Ukraine will not be able to establish their own production soon. Of course, 41,5 million dollars and subsequent receipts for ammunition and maintenance, which, according to Ukrainian experts, can make at least one third of the initial amount in the first year, are not that much money for the USA. But, as they say, the chicken is by the grain. Moreover, quite recently Washington tried to shoot these rifles into Kabul, but without much success.