The state order for the manufacture of multifunctional fighters MiG-35 has been received, the assembly of the installation batch of the latest fighters will start at the beginning of 2018, Interfax reports, citing a source in the defense industry.
Serial shipments of MiG-35 Russian Aerospace Forces are included in the state armaments program for the 2018-2027 years. Russian Aircraft Corporation "MiG" will begin to fulfill the state order for the production of the installation batch of aircraft from the beginning of the new year
- the source of the agency said.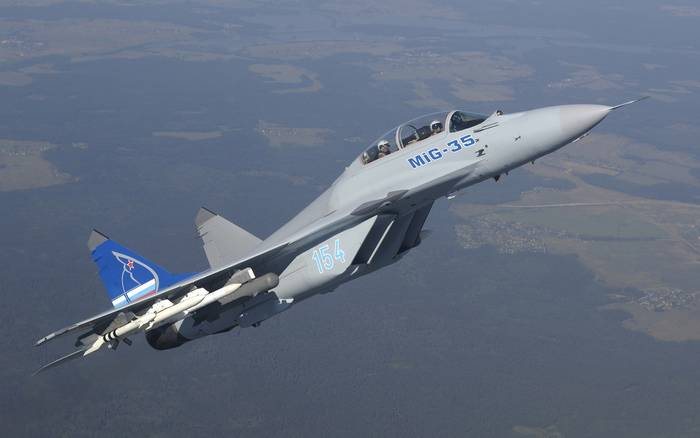 The RSK MiG enterprise in Lukhovitsy near Moscow will be engaged in the production of new fighters, and the Nizhniy Novgorod plant Sokol will undertake a significant amount of aggregate assembly.
The MiG-35 belongs to the generation of fighters 4 ++ and is considered a transitional link to the aircraft of the fifth generation. Electronic equipment allows a fighter to use all existing and prospective ammunition, the fire control system is capable of capturing 10 targets simultaneously.
The main flight characteristics of the MiG-35: normal take-off weight - 19 200 kg. Maximum - 24 500 kg. Maximum speed at altitude - 2100 km / h, on the ground - 1400 km / h. Practical ceiling - 16 000 m. The range of the MiG-35 with air-to-air missiles and three outboard fuel tanks (PTB) - 1000-1400 km (depending on the composition of weapons and the height of the flight), with impact weapons and three PTB - 800-1100 km. Maximum operating overload - 9,0 g.
In January 2017, the new fighter showed the leadership of the country. Vladimir Putin noted the export potential of the machine, since its predecessor, the MiG-29, is in service with more than 30 countries of the world. At the same time, state tests of the aircraft began.