The Government of Japan, together with military experts, is considering the possibility of creating the country's first aircraft carrier based on the largest available
fleet
helicopter carrier Izumo, transmits
TASS
the message of the newspaper Yomiuri.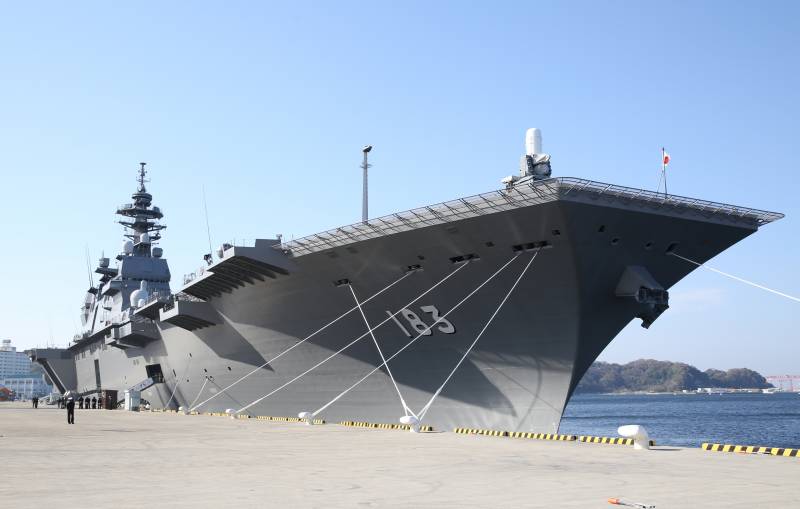 To this end, it is planned to carry out work "to strengthen the deck with the use of heat-resistant materials that can withstand loads from aircraft engines." Taking off from the deck is expected to be carried out using a springboard, which also needs to be equipped with Izumo.
Funds for the alteration of the helicopter carrier of the Ministry of Defense of Japan should be included in their budget for 2019 year, and the commissioning of the new ship is scheduled for 2020 year.
The defense ministry expects to use the aircraft carrier to protect remote areas, as well as during joint exercises with the United States to provide logistical support.
Also, the ship, if necessary, can be used by American aircraft for refueling.
Earlier it was reported that Tokyo is studying the issue of acquiring American F-35B aircraft with the possibility of short takeoff and vertical landing. According to calculations, the improved helicopter carrier will be able to place up to ten such fighters on deck.
The largest warship in Japan, the Izumo helicopter carrier with a maximum displacement of 26 thousand tons, was accepted into the fleet in the spring of 2015. Its length is 248 meters. He is able to carry up to 14 helicopters, as well as deliver paratroopers to the scene of operations before 470.