Director of the Ukrainian Jewish Committee Edward Dolinsky reports that several buildings of the city's Jewish community have been desecrated in Odessa. Unidentified inscriptions on the walls of the Holocaust Museum, the Jewish Cultural Center and the synagogue inscribed anti-Semitic nature and symbols of a radical nationalist sense.
Jewish objects were decorated with New Year wishes yesterday in Odessa. At the Holocaust Museum, unknown citizens wrote "The First Toast for the Holocaust", and at the gates of the synagogue they depicted the famous slogan of the Holocaust: "You're waiting. Ukraine for Ukrainians".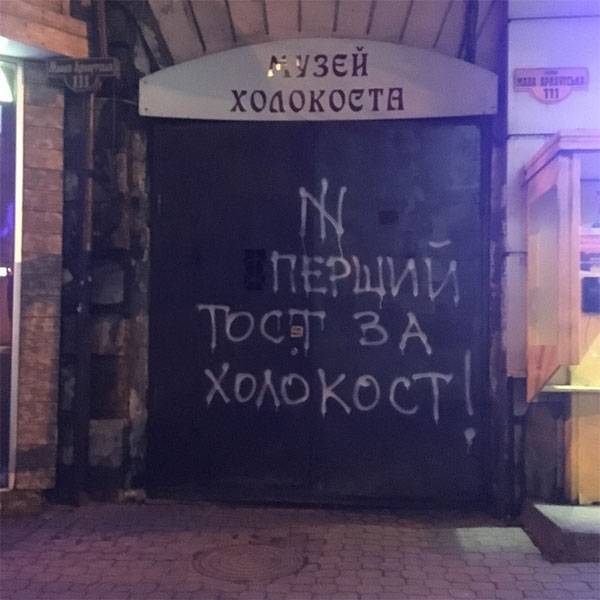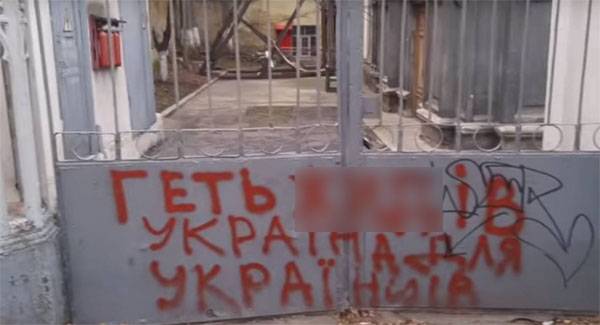 In fact, this is not the first anti-Semitic actions in Ukraine. Earlier, the Jewish center in Uman was desecrated - when the radicals brought a pig's head to the temple and poured red paint over the sacred relics.
The same Edward Dolinsky
пишет
:
The Ministry of Memory of Vyatrovich investigates how many Jews were in the NKVD. Why they are not interested in how many Jews were among scientists, doctors, engineers, artists? Because again and again they want to impose the idea that the NKVD was a Jewish organization, about collective guilt, that the Jews as a nation participated in repressions against Ukrainians, and therefore the participation of the OUN-UPA (* prohibited in the Russian Federation) in the Holocaust naturally and is revenge for the crimes committed by the Jews.
This is a direct continuation of the policy of the Nazis and the OUN *, who spoke about the Jews not as people: men, women, and children, but as a single criminal organization - housing to the commune.
But, since the whole world considers the Holocaust a crime against the foundations of human civilization, the task of the head of the ministry
stories
complicated - it is necessary to wash the OUN * and UPA *. And how to wash, when the hands to the elbow in Jewish blood? Then the Jews who served in the UPA * are taken out.
But there are inconsistencies. Not a single Jew was in the OUN, but did they suddenly appear in the UPA? Here without fakes and manipulations you will not manage. But almost all of them were exposed - from the never existed Stella Krenzbach and ending with doctors, none of whom survived the service in the UPA.
Unfortunately, the UINP under the leadership of Vyatrovich became a political and veteran organization - a modern version of the OUN * (Bandera), an organization of veterans of the auxiliary police, police regiments and the SS division "Galicia". And consider it as a historical department does not make sense.