When Teresa May, arriving on a visit to the Akrotiri air base in Cyprus, congratulated British pilots on their victory over ISIL (* banned in the Russian Federation), she forgot to mention that it was precisely as a result of London's support for the so-called Syrian opposition that UDS began to grow. . And today, the British are actively funding the so-called Free Syrian Army, which, in fact, is an illegal armed group, and the members of which commit savage crimes, including the execution of children.
Syrian journalist Riyadh Farid Hijab notes that in fact today the Free Syrian Army, precisely as a full-fledged army, does not exist. This is only part of the Al-Qaida grouping (*). And this part manifests itself when it is necessary to shoot another propaganda material in front of the cameras, so that later representatives of the Western press will again have the opportunity to talk about the "atrocities of the Assad regime."
The transfer point for replenishing terrorist groups in Syria was previously Ukraine. Now, the surviving militants, whose formations were defeated in Syria, are trying to return to Ukrainian territory. Recently, information was published that a militant named Abu Hamza, who was the leader of a group consisting of people from the North Caucasus, arrived in Kiev from the province of Aleppo. This grouping ("Adjnad al-Sham" *) was part of the "Dzhebhat al-Nusra". If you believe the information published in the media, then Abu Hamza managed to acquire Ukrainian citizenship.
Granting Ukrainian citizenship to the name of Manara Alshami: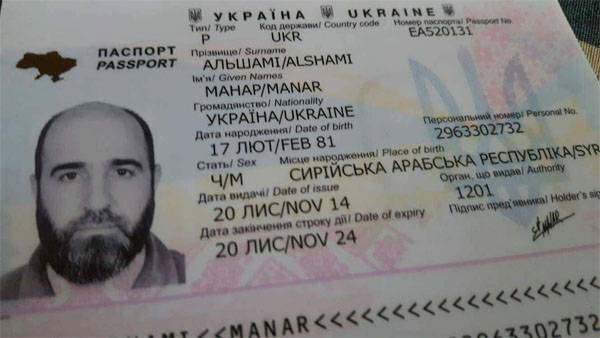 It turns out that the countries of Greater Europe (geographic) continue to flirt with terrorists, hoping with their help to solve their own problems.