American scientists have published the results of a study that calculated the number of "victims of nuclear testing." The report of the experts, which publishes the British edition
Daily Mail
, it is stated that in the United States such victims are up to 695 thousands of people for the period from 1951 to 1973.
The study was led by Keith Meyers, Ph.D. in Economics, University of Arizona, with more than vague criteria.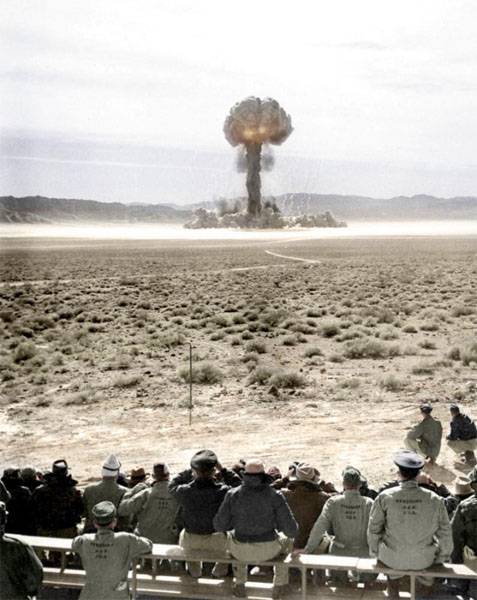 According to Meyers, the radioactive isotopes in the soil eventually got into food, including drinking water and milk. As a result of this, as of 2016 year, the United States suffered economic losses, which the doctor of economics from Arizona estimated at up to 2,63 trillion dollars. These losses are associated with premature human deaths in the United States of America.
As one example, an American economist cited a large-scale series of nuclear tests at the Nevada test site.
From the report:
Only during the 1962 year on the Nevada polygon, hundreds of square kilometers of territory were infected.
The official US authorities report Meyers yet leave without comment.
Recall that the Nobel Peace Prize laureate in 2017 was the International Organization for the Elimination of Nuclear
weapons
. Apparently, Meyers decided to take advantage of the opportunity and receive an award in economics on the same subject.