Development work (R&D) on the design of a strategic nuclear submarine cruiser of the Borey-B type will begin in 2018, the completion of its tests and transfer to the Naval
the fleet
scheduled for 2026. This was reported by TASS with reference to a source in the Russian military-industrial complex.
The Borey-B project is included in the state armaments program until 2027. In accordance with this program, the R & D for the creation of the head submarine missile-carrier should begin in the 2018 year, its delivery to the fleet after the tests are scheduled for the 2026 year.
- Said the source agency.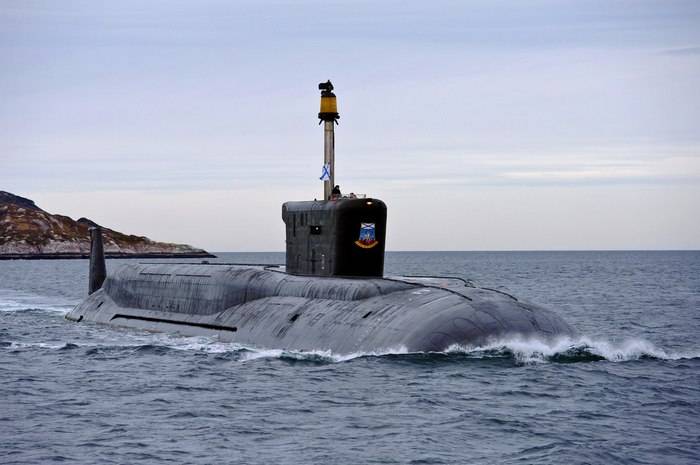 According to the source, the Borey-B will receive the hull of its predecessor, but thanks to the installation of a new jet propulsion unit, its noise level will be significantly reduced. "Other innovations will be added to the submarine," he added.
Serial construction of "Boreev-B" will begin with 2023 year, said the source. The series, according to his data, will consist of at least four units.
Commander-in-Chief of the Navy, Admiral Vladimir Korolev, 17, announced in November in Severodvinsk that the construction time of the Borey-B nuclear submarines will become clear after the draft design of these ships is completed.
Today, we are starting to work actively on this project with 2018, I think it will be soon, we will determine the specific dates based on the results of the first stage - that is, the formation of a sketch
- said then the commander in chief.
Now the Russian Navy consists of three strategic nuclear submarines of the Borey type (project 955) - Yuri Dolgoruky, Alexander Nevsky and Vladimir Monomakh. They are equipped with solid-state intercontinental ballistic missiles "Bulava", each submarine capable of carrying up to 16 such missiles. Another five nuclear submarines of the type "Borey-A" are now under construction. The last ship of this series, "Prince Pozharsky", was laid in December last year.
Earlier, the general director of TsDB Rubin, who developed Borei, Igor Vilnit, said that the project will be further developed after a series of improved Borey-A submarines.