Several US companies acquire military aircraft of Russian or Soviet origin, in particular, in Ukraine and provide them for training, including the US military. This is stated in an article published on Sunday in the magazine The National Interest.
The list of companies that can provide such services, as noted in the material, includes Air USA, Tactical Air Support, Draken International and Pride Aircraft. The first, according to the information on its official website, has two MiG-29 fighters. On the company's website it is reported that both cars are made in the Soviet Union and "imported from the former Soviet republic."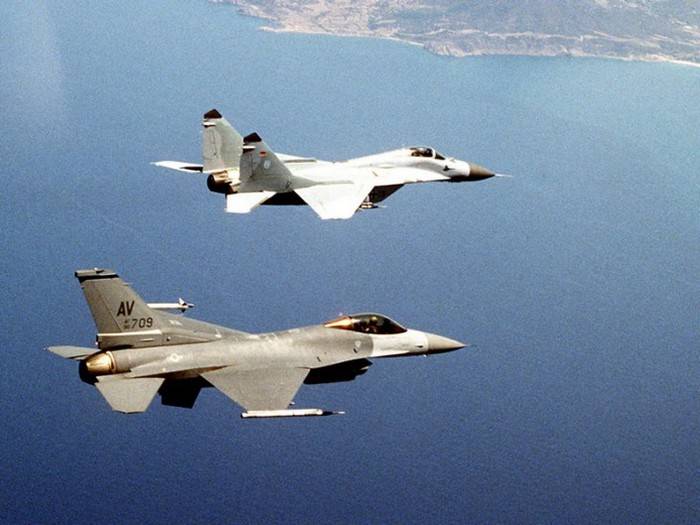 The Draken International page states that it has at its disposal MiG-21 fighter jets. The site Pride Aircraft reported that she recently acquired in Ukraine combat aircraft Su-27. It also explains that they have already been sold, to whom it is not specified.
The National Interest has noted that the Su-27 fighter was seen while simulating an air battle with an F-16 aircraft near the Nellis airbase in the US state of Nevada, perhaps this is one of the cars purchased in Ukraine. In September, the object had a plane crash that killed Lieutenant Colonel Eric Schulz. The American publication Aviation Week later reported that during the maneuvers Schultz could control foreign-made aircraft, he allegedly served in a unit specializing in the use of production fighters of the USSR and the Russian Federation, including the Su-27 and MiG-29, in order to assess their fighting qualities . Representatives of the base did not confirm this information to TASS.
The article cites the words of the American pilot Jerry Gallop, who, according to The National Interest, in the past traveled to Ukraine and participated in a deal to acquire two Su-27 aircraft. He highly appreciated the flight qualities of the fighter, in particular, its ability to quickly pick up speed. The publication notes that the aircraft were tested in the United States without weapons. The material also states that the maintenance of aircraft manufactured in Russia and the USSR, most likely, is very expensive in the United States. It is stated that this can be a profitable business if the US Air Force is willing to pay for the opportunity to use these planes in training, reports TASS