The US Marine Corps (ILC) is trying to smooth out the words of its commander Robert Neller that full-scale conflicts are looming in Europe and the Asia-Pacific region (APR), reports
TASS
.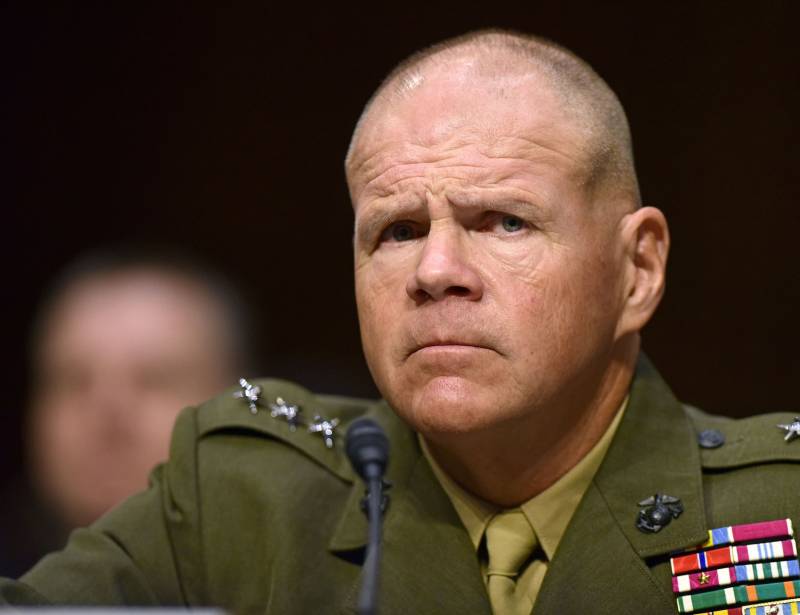 Robert Neller
In fact, he mentioned that the Korean Peninsula is the most likely point of conflict. But even this is extremely unlikely in terms of a conflict between the two states,
said a spokesman for the commander, Lieutenant Colonel Eric Dent.
Recall that December 21, speaking to US marines in the territory of the Vernes garrison in central Norway, Keller said: "I hope that I am mistaken, but war is coming. You are here participating in the struggle, the information struggle, the political struggle - simply by your presence. " At the same time, he said that the operational attention of the KMP will switch in the future to Russia and the Asia-Pacific region from the Middle East, where the United States has been fighting in recent years.
Dent explained Neller's words with his intention to inspire and motivate the military.
The idea of ​​war can push warriors to train harder and increase combat readiness. I can not even imagine a professional commander who would tell his soldiers, sailors, pilots, marines or border guards that we should not think about the possibility of a conflict, said the lieutenant colonel.
Preservation of combat readiness is achieved through constant preparatory activities and refocusing. Neller and others say: "If you want peace, get ready for war." This is what we want and exactly what we are doing,
added Dent.
The TASS correspondent also sought clarification from the US Department of Defense, but the duty staff at the press office found it difficult to answer questions about whether the point of view outlined by Neller reflects the position of Pentagon chief James Mattis.