Military training was held in Kamchatka involving fighter
aviation
Pacific
fleet
. The exercise was conducted as part of the combat readiness verification of the air defense forces. The air defense forces of the Pacific Fleet in the Kamchatka Territory reflected a conditional strike by cruise missiles at the Kamchatka Kura firing range.
Press office
Eastern Military District reports:
The supersonic strategic bomber-missile carrier Tu-160 of the long-range aviation of the Russian Aerospace Forces, which launched its cruise missiles at the Kura range, acted as the enemy. To repel a massive rocket attack on an alert, crews of all-weather naval aviation MiG-31 fighters deployed in the Kamchatka region were raised by crews of all-weather MiG-XNUMX interceptor fighters.
The press service of the district says that the fighter-interceptors successfully coped with the task. All targets were discovered, captured and successfully destroyed using air-to-air missiles.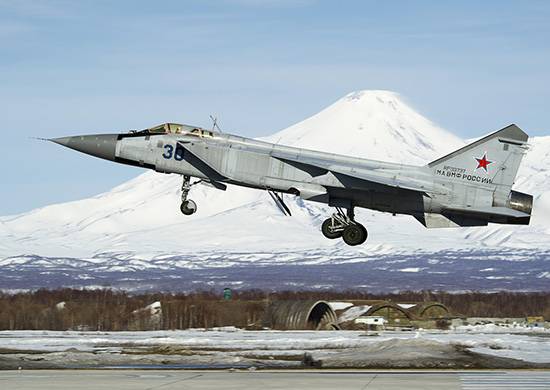 Previously, the pilots on the MiG-31 worked out measures to intercept missiles in the lower stratosphere. The conventional target for each crew of the MiG-31 was moving at a speed of about 800 km / h. The distance to destroy the rocket was about 120 km. Interceptor fighters operated at an altitude of about 15 thousand meters at speeds above 2,5 thousand km / h.