Greetings to you, dear readers. Good morning to friends and girlfriends. Good afternoon indifferent. Well, the enemies do not hurt. Winter. I understand that you are not sugar now. Snow, which is not removed. The mash from what is not clear, from which it became absolutely impossible to walk the streets. This is ours. And imagine what's going on with you.
To begin with, we are celebrating Christmas for the first time today. Under the new law. We now have to be Europeans. So, Catholic Christmas is now a national holiday. You can congratulate ... someone. By the way, we have a lot of Catholics. In the western regions.
Answer, could the Ukrainians celebrate this unexpected day off without any peremogi? Never! Do you remember that with the beginning of the war, ugh, ATO, Santa Claus does not come to us? For some reason, now Saint Nicholas has joined us now.
The truth is incomprehensible, he comes to us as the poor, or as children. Yes, he is not alone. Here in the village of Dobroslav of the Odessa region on the eve of Christmas 815 Nikolaev appeared already! Moreover, do not believe it, but Nikolai are even women! And those who were there and saw these aliens with their own eyes, they say, there are Nikolai babies! In wheelchairs drove ...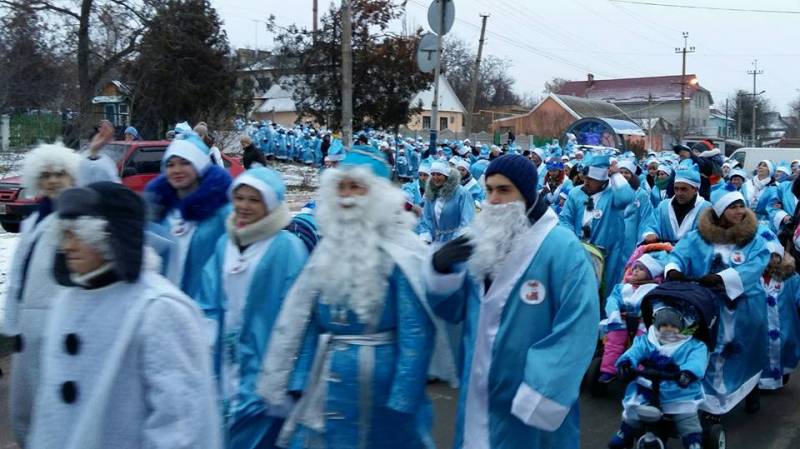 Although we are not surprised. This village, we have long enjoyed the glory of Gogol Dikanka. What's happening before Christmas God knows what. Last year there was also an invasion of these. Test landing, I guess. Total 600 pieces.
You are probably grinning now. Cockroach tells about a fairy tale. Or dope out of the cycle, everyone has fun because of their capabilities. Here at all. Open the book of national records of Ukraine and see the latest records. In Dobroslav, as many as three of them were recorded. Nikolaev pile, 2,5 meter pencil tree and the largest installation of the Book of Commandments!
But young people threw me one letter. From another part of Ukraine. The one where the old man Santa Claus comes to the children. I will not comment. The editor will not miss the comment anyway. And I will not bring completely. Just one line from the child ...
"Mom, and Santa Claus knows that we have a war here? Write him so that he does not come to us. Suddenly he will be killed here ...".
Different Ukraine or not Ukraine, say? Yes, we all stand here at one edge or balance on it. And this edge is not a line of distinction, if that.
Tell me, what do teachers do at school? Just do not give an example of your school. What do they do in our school? Sow! And spread! Only not the sprouts of knowledge and achievements of human thought And drugs.
In the Lviv region, a couple of teachers lost after a police search of narcotic and psychotropic substances for 250 thousand hryvnia! A range ... And you amphetamines, and acetylated opium, and extraction opium. And Subutex, Tropokamid ... In short, well, them.
I know that you do not understand our language, and the editors do not welcome the use of this language. But in this case, I think you can make an exception. Because these words are from the Lviv cockroach.
"Vchiteli? Hmm ... I'm not yazvivavsya yakbi tse buli lіkarі. Ale vchiteteli! ??? Situation in kraenі zovsіm trash ...".
On the other hand, on each fence or banner we can find out where the entry point to Wonderland is the closest in Telegra.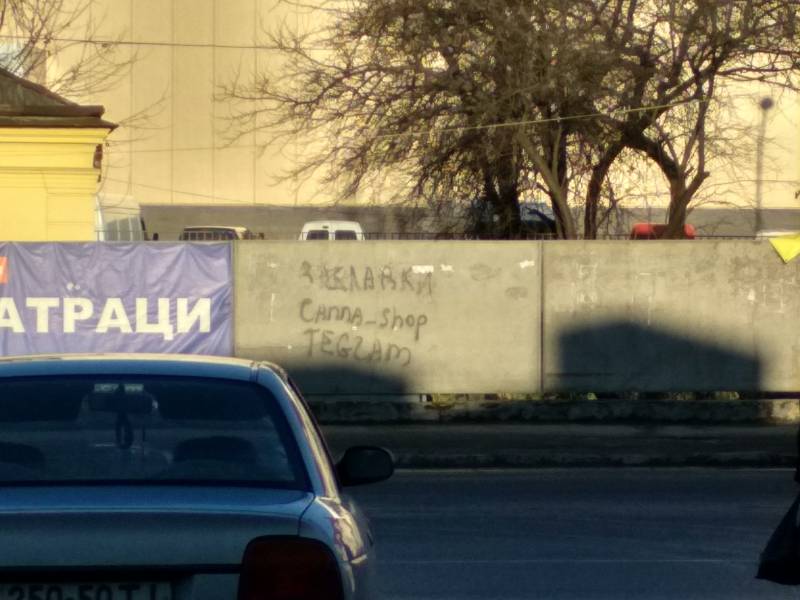 And what the hell is that? All is natural. And where power fails, people completely take the initiative in their hands. Here is the police, for example. Well, when she deal with criminals? Here Rada must be protected from the embryonic Maidan. Again, all sorts of protests disperse. In any other country, people would howl. Crime overcame.
But not with us. Here in Pyatikhatki, Dnepropetrovsk region, strangely a lot of diesel fuel was spent in cars. Directly anomalous place some. Well, the drivers decided to ambush Barabashka.
Arranged and caught! Just a few. On the sort of test purchase came with cans. Disguised as ordinary people. Well, catching something caught Barabashki and what to do next, do not know. This is Barabashki. We decided to hang them by the nearest birch trees for the time being. As decided, so did ...
And you know what is the most terrible thing described? The majority of Ukrainians supported such an attitude towards representatives of the other world. Hmm. And for me, if the law enforcement system does not work, Lynch courts appear. These guys would be yes for a good cause. A couple of days in the Verkhovna Rada to establish order ...
The people are all great power. Do you think that our economy is in decline? Trembita you. The people are no longer waiting for favors from the state, but are themselves inventing new forms of business! Tseevropa, after all.
What do you think, which chocolate is more expensive? Roshenkovskiy or Swiss? And what beer is more expensive? Ukrainian or Czech? You don't understand anything.
I'm not in vain about the new forms of business started. So, chocolate from Roshen is worth hundreds of hryvnas. A Swiss from thirty. Similarly with other products. Do not believe? Or trying to reveal the secret of our business? Do not open.
You have closed borders and no visa. And we have. And the goods that our expats workers smuggle are. Even the shops in which these products are sold, there is. Sold, by the way, openly. Everybody knows everything. I specifically ran into one of these stores. So that you are jealous.
Well, if I mentioned chocolate, then you just need to finish you ... with this chocolate finally. Ukraine since the beginning of the year has increased the export of chocolate to the EU by 35%! 10 000 tons! It can be said, flooded the old Europe with a good product. And they earned 23 million dollars on this!
True, European cockroaches say that our chocolate has never been seen. And I believe them. Yes, and with mathematics, I seem to be fine. I wonder what the quality of chocolate should be at 2,3 $ per kilogram? It will be necessary to ask Mrs. Olga Trofimtseva, our deputy minister of agrarian policy on European integration. This is she voiced.
But in this
news
There is one interesting point. I am sure that you did not even think about it. What are chocolate made of? From cocoa beans! Consequently? We have very little to turn into a new economic tiger! You need to sell the country and buy yourself another in Africa! Closer to cocoa. Enough ...
We really need dollars now. They even decided to lower the hryvnia exchange rate for the next year. Planned as much 30,1 hryvnia for green. Nightmare! Do you know how convincingly our Minister Danyluk reasoned such a course? I will specifically quote you to understand.
"When we planned the budget, we were guided by such a hryvnia rate (30,1 hryvnia per dollar). We believe that the hryvnia rate for the next year is realistic, and we have no reason to believe that this is the wrong rate."
Here comes a vague feeling inside again. Sanctions are Russia again, and Ukraine has problems again. They say that the Ministry of Fuel and Energy at closed meetings is considering the issue of transferring our thermal power plants from coal to hryvnia. They lie, I guess. But something wanted to buy more pasta ... Italian.
Remember, quite recently we and you thought that what we are good at is the electricity? So many Muscovites built nuclear power plants and other stations, that there is no place for electricity. The main thing is that at the very least these NPPs work. And the current seems to produce. And here...
Maria Nizhnykh, deputy head of the Antimonopoly Committee, reports: "The import of electric energy could be a significant competitor to domestic producers, in particular, thermal generation, and, possibly, to a certain extent, nuclear generation." Here you have a trick.
It turns out that electricity is cheaper abroad. The women on the nuclear power plant. Only now it is not clear how it can be cheaper if there is gas burning there? I consulted with experts. It turns out that we have wires abroad and from abroad. In order to save in emergency situations the power system. Something broke - a neighbor gave. Or we gave. And they all eat chocolate.
As Vyshivanok said: "This is a fiasco bro, they want to ruin the energy too." Under Yanukovych, the floor of Europe used our electricity and it was enough for the eyes, but here ... Probably, it's time to close all our power stations to the woodlouse and create an ecologically clean country.
Represent prospects? Ecological tourism! By the way, here is another example of our thinking. The idea was born right now.
Actually, I am now very concerned about ... Moscow airports. I myself have not been there, but according to reports from your media, express trains go there. If this is true, then you risk a lot, and I understand why we do not fly to you.
Do you know that high-speed trains cause interference in the operation of airport navigation equipment? Only diesel trains can run there! And do not laugh. I did not invent it myself. We have specialists. And Deputy Infrastructure Minister Viktor Dovgan.
We also wanted to launch a high-speed train to Boryspil. More in 2011 year. They even took credit from the Chinese. 372 million. $. And already spent 50 million! True, the express is not allowed. In general, the money disappeared somewhere. And the Chinese are Chinese ...
Require interest from the loan to give. Imagine 2 million monthly! Robbers. We may take another loan. Then all together and not give up. As soon as we decide what we will build. We are not Russians. We are thinking.
Diesel trains - 120 million. Metro - 300 million. $. Airships? It is impossible. Interference for heavy air traffic. Dovgan, however, sounded a clever idea. Well it, this Boryspil. Close project nafig, and all. Just think, 50 million
"The situation is really critical. My personal opinion is that the project needs to be closed. At the pace he is moving, there is no sense in continuing it."
Speaking of transport. We stoked your bridge, stoked, and you built. It is not correct. But we again found you a problem. Do you know that the bridge can not be reached by train? There is no soil enough to equip access roads. Checkmate Russian engineers. And we will not sell you land ...
And then. We know very well that bridges can be tired. I wrote about our Kiev bridges. But, we have bridges that float. In a sense, pontoons. In Nikolaev through Ingul such transferred. Long. And now the bridge was tired and decided to swim away. But we kept him. Now zigzag swims with a hole. It is impossible to walk on it and it is impossible to return the status quo. Until.
We will gather our strength and in retaliation to you, we will begin our grandiose project. On restoration of the Nikolaev bridge. Hate it. But then ... We have already had four magical words for four years: "soon" and "later." Mantra such.
Now about tears. Remember the assault on the Maydaunami October Saakashvili? How many tears were shed then! From tear gas. How many snot. And our people's government made the decision that it is impossible to artificially cause people's tears. People need to cry on business. From the tariffs there or about the death of the next atoshnika.
Everything! In Ukraine, tear gas will not be used! Now only rubber and plastic batons, stun guns, service dogs and horses, handcuffs, means of acoustic and wave influence, grenades and light-noise and smoke ammunition and rubber bullets! The main thing - water cannons! But armored vehicles should be without standard weapons. Tseevropa we!
But even this is not important. The main thing is to take care of ordinary people! Now, before you shoot a rubber bullet at you, the policeman will warn you twice already. And to beat on yay ... genitals now with batons will not. Even on the stomach and head will not.
And another police officer will call an ambulance! Before shooting or anything else. So, it means that right away, the labor was delivered to the hospital ... victims. A water cannon below 10 degrees generally can not be used. So that people do not catch a cold by accident. Here it is, the power of true democracy!
By the way, you master the Arctic there, sort of. I give the idea to your MO. It is necessary to adopt these water cannons. Imagine! Frost for 40-50. Water cannon jetting over the enemy. The jet in flight turns into ice ... And at lower temperatures, in summer, for example, when everything there is minus 20, an enemy doused with water will catch a cold and die from pneumonia!
You probably have not yet understood why I called the note that way. Yes, just everything. We started to catch spies! What is your powerful FSB and other special services. Wherever you look - a spy. And embedded as much from birth.
I am sure you have heard about the personal interpreter of the prime minister, who turned out to be a Russian spy. Well, about Stanislav Yezhov. So began our "Yezhovshchina".
Do you think Yezhov knows a lot? Yes lice him. The SBU had long known about its activities and warned the prime minister. So that...
There is, for example, Groisman with Mogherini, and right away in my ear, then my spy translates. Therefore, we will talk nonsense ... And Ezhov hung his ears and scribbling encryption to Moscow.
Here is the operation of the SBU! Shine! Wiped nose moskalskim special services. I can imagine how now your head of the FSB is tearing his hair on his head. Unless, of course, he has them. Probably, now agents will urgently disguise themselves as Ukrainians. Kickbacks to take. Land under Kiev squeeze and "buy." Hy ... Toli still be. The season has just begun. Spies catch a full prison!
And I want to finish with a sad confession. Remember, in past notes, I laughed at the New Year film "The Irony of Fate ...". How many times I told myself not to use the names in the notes ... In short, after the release of the notes "Irony ..." they decided to ban. Just a couple of days.
"On New Year's Eve, the Inter TV channel is going to show the film Irony of Fate, or Enjoy Your Bath." Since the film featured the odious Russian actress Valentina Talyzina, which is on the list of national security threats, this film is banned. And how do we it is known that the rental certificate for it has not yet been revoked. "
That's the kind of life. Solid irony of fate. Only while no steam. Steam is now expensive.
Today I say goodbye. Russian Catholics and Protestants Merry Christmas! The rest with the advent of the most tumultuous week of the year. Successful shopping, cheerful mood and well, all of them to the wood louse. So that we are not told, and we will still celebrate one holiday. And with Santa Claus. I think that we will meet again this year. This year! Happiness to you and your families!