The military operation in Syria, as well as the cooperation of Russia, Iran and Turkey in the matter of stabilizing the situation in the region, proved the possibility of a successful fight against terrorism, reports
TASS
Statement by the State Duma Chairman Vyacheslav Volodin.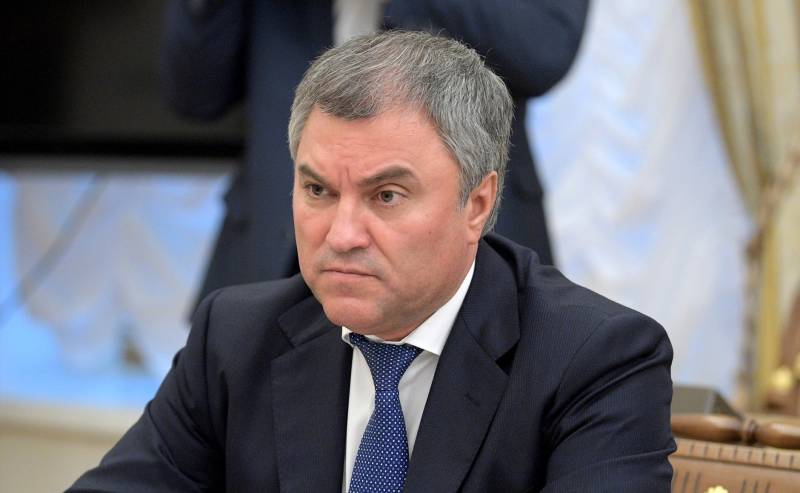 Successful fight against terrorism is possible. This was proved by the operation of the Russian armed forces in Syria and the progress achieved in the framework of the diplomatic efforts of Russia, Iran and Turkey in resolving the Syrian conflict,
Volodin said at the first regional inter-parliamentary conference on security and counter-terrorism issues. Speakers of the parliaments of Afghanistan, Pakistan, Iran, Turkey, China and Russia take part in it.
According to him, the most important condition for such success is a multilateral format - "broad international cooperation, involvement of all parties interested in stabilizing the situation in crisis regions"
It was in Syria that the first step was taken towards creating truly effective international mechanisms for the elimination of terrorism, without double standards and on the basis of strict observance of international law. In this regard, I want to emphasize the role of the heads of our states - Russian President Vladimir Putin, Iranian President Hassan Rouhani and Turkish President Recep Tayyip Erdogan - in this settlement,
said Volodin.
However, after the defeat of the "Islamic State" (IS, banned in the Russian Federation) in Syria, "scattered terrorist groups began to penetrate into Afghanistan, Pakistan, the countries of Southeast Asia and Europe," he noted, drawing attention to the need for "developing mechanisms to joint control of terrorist movement across borders. "
Volodin also said that "the fight against terrorism is possible only through joint efforts and requires concrete actions, including the approximation of legislation."
Our indisputable advantage in the fight against this evil is unity. In the fight against terrorism, concrete joint legislative actions are needed,
he said.
The State Duma Speaker pointed out that the development of the situation in the Middle East and South Asia "directly depends on the security of millions of people far beyond these regions - Russia, East Asia, Europe, the United States of America."