United States Permanent Representative to the UN Nikki Haley was another victim of the Russian prankkers Lexus and Vova (Alexey Stolyarov and Vladimir Kuznetsov). She in conversation with them agreed to support a non-existent country.
Pranker called Haley on behalf of the Polish Prime Minister Mateusz Moravetsky, broadcast "News".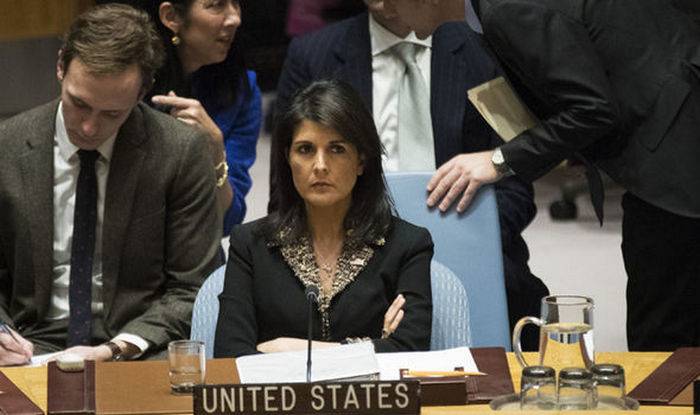 US Permanent Representative to the UN Nikki Haley said that the States will consider Poland as their dear friend. Such is gratitude for the fact that the country abstained from voting on the resolution of the UN General Assembly against the recognition of Jerusalem as the capital of Israel. True, in Warsaw they hardly guess about this gratitude: in fact, Haley was called by Russian prankers.
The prankers during the conversation told Haley that in the country of Binomo, which is located not far from Vietnam, in southern China, a vote was passed on the declaration of independence, and Russia intervened in this campaign. Pranker Alexey Stolyarov (Lexus) later noted that Binomo is just a set of letters - "the first thing that came to our mind".
Haley said she knew about this country, called Binomo's desire for independence right, and noted that Moscow certainly intervened in the situation.
We are warned about this and watch very closely. I think we will continue to observe, as we are doing in matters relating to the South China Sea
- declared the permanent representative
She promised that everything related to the South China Sea issue would be brought up for discussion at the White House.
Recall that earlier, after a conversation with Russian prankers, California member of the US Congress of Representatives Maxine Waters condemned the Kremlin for Russian hackers breaking into the Limpopo electoral system in order to overthrow the government of Barmaley and stage Aibolit's "puppet of the Kremlin. The pranker's statement provoked the indignation of the senator, Waters promised to "issue a statement" in connection with the actions of the Russian authorities.