Sociologist Yevgeny Kopatko recently said one important thing: we lost the information war in Ukraine even before the Maidan, when we gave the media outlets of the country to the will of supposedly public opinion, and in fact, to the arbitrariness of our opponents, hoping for some unknown common sense of society, which will figure it out. And he won a better organized and prepared pro-Western and Bandera Maidan, in February, 2014, he force
weapons
designed his victory. Today, the information war has spread to Russia, and we ourselves have given Russian media platforms to this war, and again we are counting on the unknown common sense of society, and even our informational ... "opponents" who we invite to visit us as experts! We expect that they will appreciate it?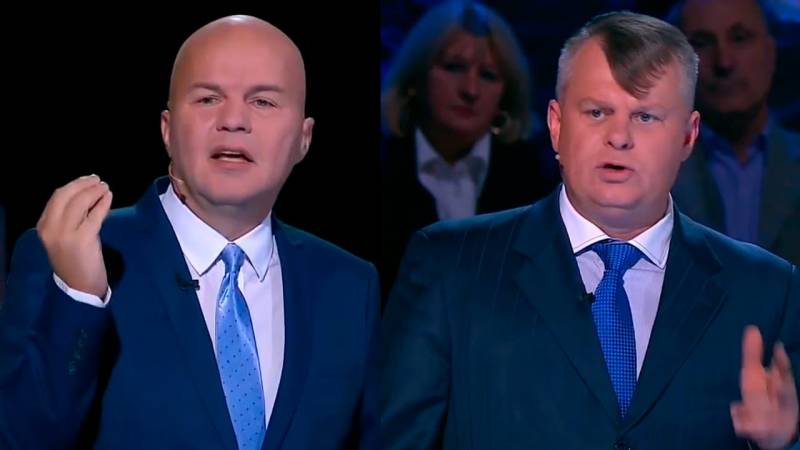 Dulcimers, Tryuhans and Kovtuns are located in our studios like at home, they take our highly scientific and venerable observers by the throat when they dare to object to them. They broadcast their own "truth", which is one for all: Russia is an "occupier", "aggressor", "kills Ukrainians", and the leaders of our programs and political scientists swallow it! Such is their "position", we must know it! We know for a long time ...
The director (!) Karen Shakhnazarov put it once in place of Tryukhan, entered into an altercation with him, said about his rudeness, to which he smirked, almost grunted, but this is almost an isolated case! The hosts of the programs keep their neutrality and follow the "rules" of conducting disputes; they do it badly, but this is not the case.
This is not all controversies for the sake of truth, but information fights without rules, where our "opponents" seek victory at any price, albeit with a lie, and labeling. The main thing is not arguments, but a tinned throat, rhetorical tricks and experience in such matters. The usual question of the presenter: what do you think about this, dear Ukrainian expert? And the "expert" thinks how he could slap a toothpipe more. After receiving the zabyotychina, the presenter politely remarks: you did not answer the question posed.
It is said that "Ukrainian experts" are used as a "live vaccine" on our television channels, but then the dose must be maintained and not equal conditions created by the poison of the vaccine and the body to be vaccinated, in the hope that he will somehow cope.
For some reason, our experts are not invited to the media platforms of not only Kiev, but also of Europe: they protect their information security. We do not care? Until the thunder clap, do we not cross ourselves? And then Kolya from Urengoy is surprised: where did he come from? From our open studios and wind-opened information and educational programs. Such programs are just a gift for those who lead information wars with us, we note that such wars are always waged with a smile and words about peace and humanism in order to hook our gullible Kohl.
We have only two real fighters on the media front: Zhirinovsky and Satanovsky! Apart from Karen Shakhnazarov, who is still the director. The rest carry the pitiful babble of some arguments, evidence and justification: Russia wants to do its best for everyone, even for America with McCain and Ukraine with Bandera! Our "opponents" are grinning: so make us "good", right here and now!
We all pretend that there is no war in our studios: we are supposedly looking for answers to questions and common sense. We urge all Bandera, their allies from Poland and other lands to say that they, objectively, see in some plots, official and semi-official statements of various kinds of figures.
Dulcimer, Tryuhans and Kovtuns do not see anything, and will not see! They did not come to Moscow for this, but in order to hang the labels of "aggressor" and "invader" on Russian information sites on Russia! "Aggressor" is to blame a priori! Where is common sense? - are our presenters calling in "60" and other minutes? In fact, it is - in its own information war.
This war has become a "spicy dish" live, because with curses, insults - it's as interesting as a filmmaker with an unpredictable outcome! Our media executives understand what they are doing? Yes, Bandera and I still have some semi-diplomatic relations, but in the information sphere - the war has long been! And with America, and with Europe too! And so they transferred this war to their media platforms and enjoy high ratings? We will soon be drowned in blood from these ratings: the word also kills, and no worse than a weapon! The main weapon of the notorious ISIS is the propaganda word, and only then - the bomb!
Compare what our Western "colleagues" are doing: they don't allow our political analysts and journalists to their media sites, they spit on freedom of speech and pass laws against "Russian propaganda" because they fear information warfare at home, "confusion minds "is the last revelation of European svobodoslov. On Western media platforms, only their "experts" reign with a well-known postulate: "Let my country be wrong, but this is my country!"
To give the enemy freedom of speech in the information war on its territory is the way to defeat, it is like giving the enemy weapons on the battlefield, and then fighting him for his life! If we get lucky. After all, Tsymbalyuki and Tryukhany's goal is not freedom of speech and some kind of dispute, but our informational debacle, that is, infoicide. Dulcimeres and Tryuhans only smirk and insolently from impunity, and always give the same answers to stories about Donbass: there is a war with you, everyone is killed, and we don't believe your reporters and witnesses, we have our witnesses.
The only time, perhaps, Vladimir Oleynik, a refugee from Ukraine and a former deputy of the Rada, said in "60 minutes" what was going on: you are talking to neo-Nazis, they will promise you everything, so that the mayor of the former Dnipropetrovsk Filatov promised you, and Bandera society did not condemn it silently. Oleinik well knows who we are dealing with: he barely took his legs from the former Ukraine.
But in Moscow studios Oleinik is a voice crying in the desert. He understands what we do not yet understand: Tsymbalyuki and Tryukhans are not ex-Russians or Ukrainians, they are Bandera's, neo-Nazis with a mania for the superiority of "Ukrainians", who lead their lineage from accomplices of the Hitlerites Bandera and Shukhevych, that they don't hide, and we swallow !
What is happening today in our media studios is just the same as if, before 1941, a year, Goebbels propagandists were invited to Soviet audiences to understand their position and find some common sense and common ground: they are also people and the working class among the fascists too.
Our media all their generosity show, hope that the Cymbals and Tryuhans will weep and appreciate! Do not cry. There is on this occasion the treatise of A. K. Tolstoy "Generosity Softens Hearts", XIX century:
Dagger dagger killer unholy
In the chest to Delarue.
He, taking off his hat, said to him courteously:
"Thank you" ……………………….
Here the villain was torturing him, piercing
All teles,
And to Delarue: "I ask for a cup of tea
To us at three o'clock "……………….
Here the eater has become and even bitter than pepper
Villain view.
Good for evil spoiled heart -
Oh! will not forgive.
The high spirit of mediocrity is disturbing
Darkness is terrible light ........................
He dipped with godless malice
Dagger your poison
And, having risen to Delarue carefully, -
To grab a friend's ass! .........................