Rostec Corporation reports that the Moscow Salt Research and Production Center for Gas-Turbine Construction, part of the UEC (United Engine Corporation), has conducted research in the field of materials science. We are talking about research work, which should serve to obtain new materials when creating
aviation
engines.
The press service of the company reports that the research work is related to the study of the properties of the new Russian binder material alumox. This material is considered as a potential basis in the process of creating blades for aircraft gas turbine engines.
Valery Mikhailov, deputy head of the metallurgy sector at Salyut NPT, notes that improvement of blades for aircraft engines based on nickel-based superalloys has reached its limit.
Of
statements
Valery Mikhailov:
At the same time, the high melting points and reactivity of a number of composite alloys lead to their interaction with most refractory materials. The possibility of using for these purposes traditional ceramic materials is almost completely exhausted or, at best, significantly limited. For reliable implementation of the high-gradient directional solidification process, it is necessary to increase the operating temperatures of the crucible and the ceramic form to 1800 degrees Celsius, which is almost 200 degrees higher than in industrial technology.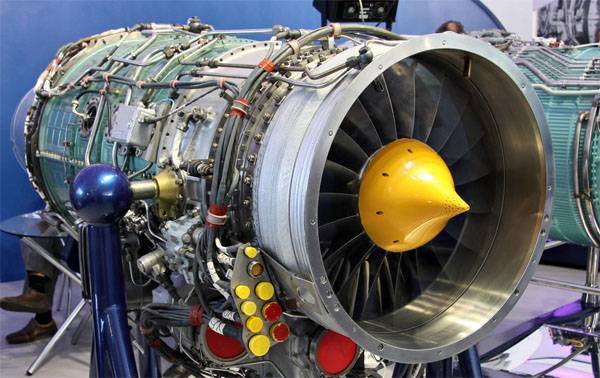 Providing temperatures up to 1,8 thousand degrees Celsius requires the use of a silica-free binder and refractory refractory materials (talking about yttrium, zirconium, aluminum oxides). It is such a silica-free substance (alumox) that was developed by Russian specialists from the Department of Technology and Computer Aided Design of Metallurgical Processes of the MAI.
Tests of alumox showed that it has excellent resistance to temperatures up to the above mark, while it also revealed chemical inertness.
From the material:
Studies of high-pressure turbine blades of the AI-222-25 turbojet engine showed that when using even a combined form with two protective layers on a bonding aluminox, the depth of interaction between the casting metal and the mold is about seven times less than on blades manufactured by serial technology, and does not exceed 5 microns. Thus, the use of ceramic forms with alumox will significantly improve the quality of casting and, accordingly, the working properties of the blades, affecting the performance and GTE resource.
Press-service of "Rostec":
JDC tested a new material for the manufacture of aircraft engines