Russia is hotly debating the question of whether Russian athletes should take part in the Winter Olympic Games on the terms put forward by the IOC, i.e. without a flag, without a hymn and without identifying attributes on the uniform of the members of the country's Olympic team.
Opinions are diametrically opposed. Some people, including many athletes, say "to go," others say that this is a "humiliation of the country", therefore "it is impossible to go in any case."
Opponents of participation in the Olympiad give very sharp arguments, recalling the heroic
history
Russia and examples of feats contemporaries. Supporters of participation argue their position by saying that the flag and anthem are in the heart, and the world already knows what country these athletes represent.
As an outside observer, I want to express my thoughts on this topic.
First, people insult and humiliate each other every day, and several times. But few of them died or lost their face, their "I."
Secondly, it is possible to humiliate only when the person himself believes that he has been humiliated. If he misses the negative in his address, then the vis-à-vis will dissolve into the air.
Thirdly, Russia is not a country that can be humiliated with impunity. From her story it is well known that sooner or later the adversaries received tinsel. The main thing is to be patient and wait for the X hour. I would like to give as an example not the outcome of the Great Patriotic War, but the three hundred year old Mongol-Tatar yoke, under which Ancient Russia was located. It was really a humiliation when the Russian principalities paid tribute to the aggressors for three centuries. But the Horde has disappeared, and Russia is alive! Why? Because internally the Russian people did not bend over. Do not lose heart and now, especially because of some kind of Olympiad.
Fourthly, Russian athletes still have the right to participate in the Olympics. Consider it a humiliation is not worth it. After all, no one in the country considered humiliation the exclusion of Russia from the G8 or PACE. Russia does not have access to these structures, but to the Olympiad.
Fifthly, sport is just one of the varieties of human activity. On it, life is not obsessed, and it is not something that radically affects the meaning of the existence of peoples. Therefore, to any sports should be treated calmly, without hysteria. People lived for centuries without sports and Olympiads. As soon as you stop attaching such an overestimated importance to sports of any rank, the psychosis on this occasion will immediately leave you, and benevolent peace will reign in your souls.
Sixth, we all know perfectly well who and why launched a large-scale anti-Russian slanderous campaign. The reasons are also known to everyone: Russia ceased to execute commands from across the ocean, resurrected in its former power, satisfied the desire of the Crimeans to restore historical justice and return to their true sources. The Americans did not like this, because they planned through the next "Maidan" to expel the Russian Black Sea Fleet from Sevastopol and introduce their
flotilla
, and thus inflict the most powerful moral damage on Russia. But that did not happen. And the Americans went wild and launched a disgusting information war with their henchmen. US-European intriguers openly told the Russian diplomatic corps that they would in every possible way disavow everything that Russia was doing. One of the directions of this vile and cowardly policy was chosen sport.
Seventh, only naive can believe that there are "clean" and "dirty" athletes. Sport has long been not a competition of muscles, but a dope battle. Every human body has a limit of possibilities. Only training can achieve outstanding results only very talented athletes. But they are not able to show good results for a long time. Without the help of pharmaceutical products can not do. Some medications help muscles acquire superpowers stronger, some - weaker. That is, it is not people who compete with each other, but medical preparations. Therefore, the fight against doping was declared. But there has not been without fraud. Since WADA is dominated by representatives of Western countries, many drugs that are used by their athletes are not included in the list of prohibited ones, but non-doping drugs that are used by Russian athletes are included. In addition, Western athletes are officially allowed to use illegal drugs under various pretexts. Therefore, the anti-Russian doping scandal is a well-directed, but absolutely unfair action. That is why Russian society should not be hysterical. Any medicine can be dopeed depending on a conjuncture as well as any potent doping can be declared a common cold medicine. Alas, this is an objective, albeit sad, reality. Political games around the sport will never end. The struggle of pharmaceutical companies among themselves, including the non-inclusion of their products in the WADA list, will not end either. So have patience and buy more popcorn to contemplate this unsightly and endless spectacle, but do not fall into prostration and do not enter into interstitial verbal lists. What has been said in this paragraph does not mean that all athletes are dopingists. But they all use those and other stimulant drugs, including those that contribute to accelerated recovery of strength after many hours of hard training. The problem is that some drugs are listed as banned, and some are not. Moreover, the selection criteria are not just dubious, but frankly corrupt. That is, the decisions of WADA are far from perfect and fair. Proof of this is at least the recent doping scandal that broke out on December 18 2017 in the United States in connection with an article published in the British newspaper The Telegraph, which tells about the use of doping by American athletes.
Eighth, it is not worth declaring Russian athletes who have expressed a desire to take part in the Olympiad as traitors to their homeland. They betray nobody and nothing. The announcement of a boycott is exactly what the Americans were waiting for. The boycott would be immediately attributed to V. Putin, and a massive information attack on the Russians would begin, they say, the "evil empire" and Stalinism would once again revive. The West wanted to have a reason to turn the people of Russia against V. Putin. But V. Putin is not a fool, so he did not fall for this bait.
Ninth, athletes have been preparing for the Olympic Games for years, spend a lot of strength and energy, exercising every day until exhaustion, deny themselves ordinary human joys, stay away from their families, wives, children, etc. for a long time. And to lose participation in the Olympiad is a big tragedy for them, primarily in moral terms, and not in material terms, as would-be patriots say. In no case should they be prohibited from participating in what is the purpose of their short sports life.
Tenth, who and what won from the boycotts of the 1980 and 1984 Olympiads? Everyone was the loser, since both Olympiads were not complete. The strongest must compete with the strongest. The victory gained in a fight with equals cannot be compared with anything. Therefore, let Russian athletes prove in practice that they are not sewn, and let the whole world see it.
Eleventh, patriotism is not striking oneself in the chest, waving a flag, singing a hymn and shouting out loud slogans. Patriotism is love for one's homeland, respect for one's fellow citizens and ability to unite in the face of a common threat. Today, as in the old days, Russia is threatened by the collective West, and it can resist only if it does not succumb to external provocations, shows wisdom and does not allow it to shake itself from the inside, not allowing the second Gorbachev to come to power in the country. Therefore, the Russians should unite around V. Putin and ardently support their athletes, who decided in such a difficult situation to defend the honor and dignity of the great Russia.
In the twelfth, because no one died, and the country did not collapse when the Russian Paralympic team was excluded from participation in the Summer Paralympic Games in Rio de Janeiro. There was not only the flag and anthem of Russia, but none of the Russian Paralympians at all. And in Pkhenchkhane Russian Olympians will be. As they say, feel the difference.
Thirteenth, when Russian intelligence officers perform their duty in the enemy's rear, they do not imagine where they do not sing the national anthem, and do not wave the Russian flag in public. But in their souls they carry the love of their Fatherland and secretly work in the name of its good. Imagine that Russian Olympians are your undercover agents, who are faced with the task of benefiting Russia on the Phenchkhan sports grounds, and everything in your head will fall into place.
Fourteenth, in 1992, the national team of the republics of the former USSR performed at the Olympics without a flag and a hymn, but none of the athletes found themselves humiliated and no one in their independent countries called their Olympians traitors. So then the circumstances, and all reacted to this with understanding. Today, the situation is different, created by enemies deliberately. But it is also necessary to treat it with the same wise understanding and not to divide our fellow citizens into traitors and patriots. In this case, more patriots are athletes who decide to go to the Olympics than couch heroes who fill the Internet with their verbiage, but they themselves have not done anything worthwhile for the benefit of Russia.
Fifteenth, people tend to fetish any object or phenomenon. This is a rudiment of paganism. That only humanity did not recognize the sacred - and stones, and plants, and animals, and stars, and planets, and signs, and numbers, and mythical creatures invented by themselves, etc. But in reality, it's all nonsense. In the recent past, many of the Russians now living considered the flag and anthem of the Soviet Union sacred. But for more than a quarter of a century, the new flag and the new text of the anthem of Russia have become sacred. That is, these citizens have been patriots of the USSR for a long time, and now they have become patriots of the Russian Federation. And nothing happened to them. It means that you shouldn't beat your head against the wall due to some conventions, besides not being constant.
Sixteenth, at this winter Olympics, Russian athletes will win 5 or 7 gold medals at best. Therefore, the flag will not be raised and the anthem will not be played the entire 5 or 7 time. And because of this nonsense, you Russians intend to devour each other? By golly, this is ridiculous.
Seventeenth, the flag and anthem of Russia will not be only at the Olympics in South Korea, but no one took them away from you. Who is stopping you from downloading the anthem of your homeland on the Internet and turning it on when someone was awarded the gold medal to a Russian Olympian? You can also easily buy a flag or flag of Russia and proudly hold it high above your head to mark the triumph of your compatriot. This will be a manifestation of true patriotism.
Eighteenth, unfortunately, in Russia there are many agents of influence of Western special services and corrupt spaghetti a la Gorbachev. But even more regretful is the fact that among Russians, for various reasons, there are many hurray-patriots who are not able to think in a sane manner. What they write against their athletes, it seems to them, is patriotism. But this is not patriotism, it is a patriotic rage. Their main accusation is that athletes are focused only on money and go to the Olympiad exclusively for their sake. What kind of money can we talk about if the chances of winning a medal in the current situation are minimized? And then, again, the sports age is very short. If an athlete earns some money while he is still full of strength, what is criminal about that? All people are engaged in one or another type of activity in order to earn their living. This is natural and normal. So why do you blame athletes, just like you, who want to earn money for their existence by their exhausting work? In addition, winter Olympians do not earn as much as, say, tennis players, football players, basketball players and others. It is shameful not the desire of athletes to perform at the Olympiad, but the behavior of their compatriots, who arranged for them an unfair obstruction on the Internet.
Nineteenth, there is nothing deadly in the absence of identifying symbols. I will give a simple example. When they offer a good job, but without official registration, few people will refuse, because they need work and earnings. That is, figuratively speaking, the absence of a work book does not inflict serious moral damage not only on those who work at this job, but also on the people around them. The main thing is that the work was done in a timely and efficient manner. It is the same with the Russian Olympians - they must perform with dignity, despite the absence of formal signs of their presence.
In the twenties, on the shirts of Russians, it will be written: "Olympic athlete from Russia." The IOC thinks that by this it insults the representatives of Russia and its people as a whole. But in fact, your athletes are Olympic athletes from Russia! Not from Zimbabwe or Vanuatu! So the pseudo-patriot psychosis on this matter looks awkward and inappropriate.
Twenty-first, without any exaggeration, it can be argued that Russian athletes who decided to go to the Olympiad, where they were prepared for a hostile and uncomfortable situation, in fact, accomplish the feat. There is a high probability that the Americans, together with their satraps, will organize anti-Russian provocations and booing of Russian Olympians in Pkhenchkhane. Who among you, the sofa heroes and verbiage, would voluntarily put yourself under such wild pressure? I'm sure no one. If you are not able to find the strength and reason to support, then at least you can not speak evil of your countrymen?
Secondly, after the Rio Olympiad, the IOC decided that if a country or its team announced a boycott and did not appear at the Olympics, it would be barred from participating in these competitions for two Olympic cycles. A question for frantic patriots: will it be easier for you if Russia forfeits the right to participate in winter and summer olympiads for the next eight years? Restrain your foolishness and understand that the Russians certainly need to go to South Korea in February 2018.
Twenty-thirds, who is a traitor to the motherland, and who is not, decides the court. In the Criminal Code of the Russian Federation there is no article on the qualification of the participation of athletes in the Olympic Games without a flag and the anthem of Russia as a "betrayal." In addition, have you really, patriots, still not understood that the participation of Russians in the upcoming competitions in the arenas of Pkhenchkhan was discussed in advance with the leadership of your state? And the way it was presented, fully consistent with the prevailing realities. Understand, so it was necessary to do. Therefore, stop complexes and howl on the Internet, as well as with schizophrenic aplomb to talk about what you have no idea.
Twenty-four, as already mentioned above, if Russian athletes do not go to the Olympics in South Korea, Russia will miss two Olympic cycles. What will be the consequences? The best Russian athletes will begin to take citizenship of other countries, i.e. we will witness the outflow of the elite of Russian sports. The cherished dream of athletes - Olympic gold. To blame them for this dream is tantamount to blaming any filmmaker for wanting to receive an Oscar or any physicist — the Nobel Prize. If, as a citizen of Russia, an athlete knows that he has no chance of getting to the Olympiad, he, of course, will look for ways to fulfill his dream. In this case, a forced change of citizenship. However, he does not become a traitor and in his heart remains a patriot of his homeland. In addition, not only mature athletes will be going abroad, but parents will start exporting their children to other countries who have high sports hopes, since in Russia they will have no Olympic prospects. And no one has the right to criticize or accuse them of collaborationism. As a result, Russia will lose the sport of higher achievements. Only physical education and mass sports will remain. And this means that in the country there will be no athletes who could adequately represent the great Russia not only at the Olympiads, but also at the world championships, Europe, etc. Do you want that? Being in common sense, no one will want such a homeland. So calm down, vociferous patriots, for your current patriotism is harmful, insane and looks like paranoia.
Twenty-fifth, you do not own even a hundredth of the information that the leadership of your state has. If the president, the government, the ROC, and the Olympians decided to go to the Olympics, despite all the negative circumstances, then it must be so. And the white flag in this case is not a flag of surrender and loss of dignity, but, on the contrary, a symbol of inflexibility, bright reason, pure thoughts, faith in justice and in one's own strength.
Twenty-sixth, Galileo recanted aloud from his convictions, but in his heart he sounded: "And yet it turns." After all, no one can forbid Russian Olympians and fans to sing the Russian national anthem during the awards ceremony, whatever tune may sound official. Russian flags in the stands are also not prohibited. If everything is properly organized, then Russian fans in South Korea could draw to the singing of their hymn and fans from other countries, for example, by distributing to them the text of the hymn written in Latin. Nobody has canceled the international solidarity of progressive humanists.
Seventh-seventh, the decision of the IOC was made, relatively speaking, in two stages. At the first stage, it was decided to punish Russia for the massive use of doping by its athletes. The fact that this decision does not hold water is discussed above. If the country as a whole is punished, it means that there should not be its state symbols at the Olympiad: a flag, a coat of arms, a hymn. I hope everyone understands this. Further, at the second stage, it was decided to allow privately to participate in the Olympic Games those Russian athletes to whom WADA has no complaints. Please note in private, and not as representatives of the country. This is the subtlety of the situation: Russian Olympians are going to the Olympiad as individuals at the personal invitation of the IOC. That is, in this case, the flag and anthem of Russia are not provided for by definition. Only those who for the preceding four years won the corresponding license are traveling. It is obvious that there is no reason to talk about any treachery, humiliation and self-interest in relation to the Russian Olympians. As soon as you, terry patriots, understand this nuance, all your reckless accusatory rhetoric against your athletes will come to naught.
In conclusion, I want to stress once again: Russia cannot be destroyed by attacks from the outside. This can only happen if Gorbachevs from the "fifth column" come to power in it, ready to bend to the West for the sake of indulgent patting Uncle Sam. Russia is indestructible, as long as its people are united and do not seek to undermine their own state foundations.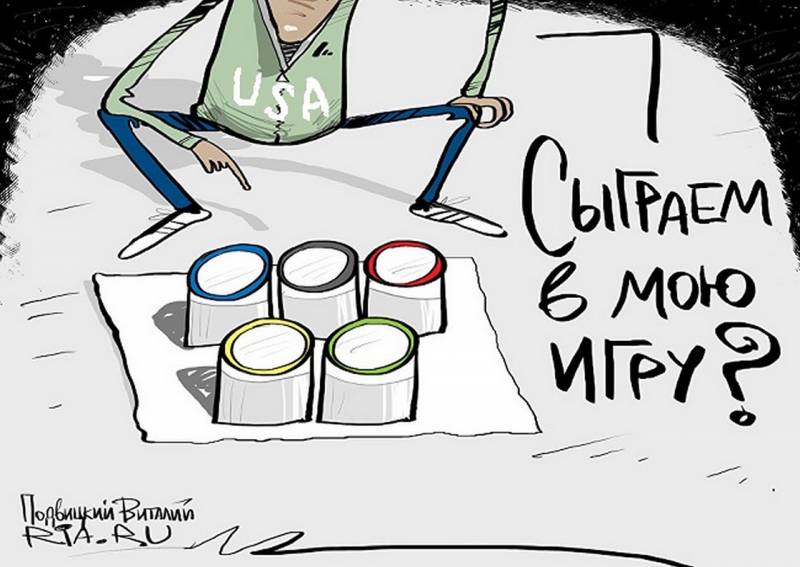 External enemies led by the United States are trying to bring discord into Russian society by any means, without shying away from any lies and meanness. The decision of the IOC to ban the Russian flag, anthem and symbols at the Winter Olympics was made under the savage pressure of American-European provocateurs. And this is not the last blow. The Russians should keep their ears open and not join in the altercation between themselves because of the regular attacks on their country.
Even a million Olympic games are not worth the Crimea alone. Even a billion olympiads are not worth Russia, the cohesion and well-being of its citizens, as well as the integrity and inviolability of its borders.
Russians, take care of your great Motherland, do not reflect on the intrigues of Western enemies, keep calm and endurance, curb your emotions, be above your mind and stronger in spirit overseas nonentities and know that the time will come - and all your enemies will get what they deserve. But if you quarrel with each other because of the Olympics, it will mean that your enemies have reached their goal. Do not allow such a turn of events.
I wish you peace, harmony, sanity and prosperity! Stay yourself so that no one from the outside can disturb your balance and deprive you of your unique identity!