After the decision of the Stockholm arbitration on the financial claims of Naftogaz and Gazprom to each other, the Ukrainian company announced its victory. The decision of the arbitration is to cancel the contract rule "take or pay", eventually reducing the price of gas for Ukraine (already on previously concluded contracts). Thus, the price of gas fell by about 27% - to the 352 dollar mark per 1 thousand cubic meters (for gas already supplied to Ukraine).
From the statement of the press service
Naftogaz
:
The arbitral tribunal completely dismissed the claims of Gazprom on the take-or-pay position in the amount of $ 56 billion for 2009 – 2017 years. Naftogaz achieved a reduction of future mandatory annual volumes of more than ten times in accordance with its actual needs for gas imports. The price of gas produced by Naftogaz in the second quarter of 2014 was reduced by 27%, from $ 485 to 352 per 1 thousand cubic meters. Due to the revision of the contract price, Naftogaz saved $ 1,8 billion on gas purchased in 2014 – 2015. The company appreciated the overall the positive effect of such a court decision in more than $ 75 billion. Naftogaz requires up to $ 16 billion in arbitration under a transit contract, this decision is expected 28 February 2018 of the year.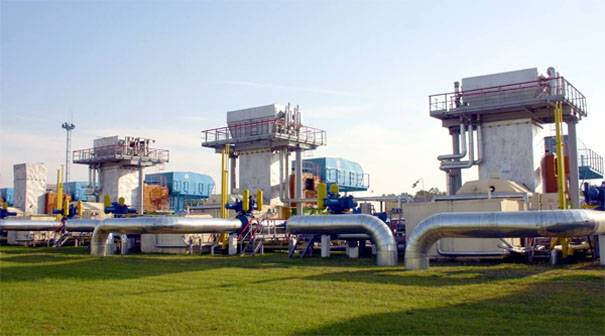 In Gazprom, having heard of the "effect in 75 billion dollars," they are clearly perplexed by the statement of Naftogaz representatives. In fact, the "victory" of the Ukrainian company looks very doubtful for the reason that Russia has never sold gas to Ukraine for 485 dollars - each time giving a substantial discount. This is the first. Secondly, Gazprom notes that Naftogaz is silent on the need to pay billions in 2. That is exactly the amount Ukraine should pay the Russian Federation for overdue debts. Also, the Stockholm arbitration ordered the Ukrainian side to abandon statements in the style of "we will do without Russian gas." By a court decision, Kiev must annually purchase, under the 5 contract, billion cubic meters of gas going through a pipe from Russia.
As can be seen, the Stockholm judges made a decision, which was primarily aimed at preventing Russia from abandoning Ukrainian transit. And the term of the contract for the transit of Russian gas to Europe through Ukrainian territory expires in 2019.