Ground Forces formations will be covered by an echeloned air defense dome. In 2018, the rearmament and significant strengthening of the standard anti-aircraft missile divisions, which are available in all
tank
and motorized rifle divisions, reported
News
.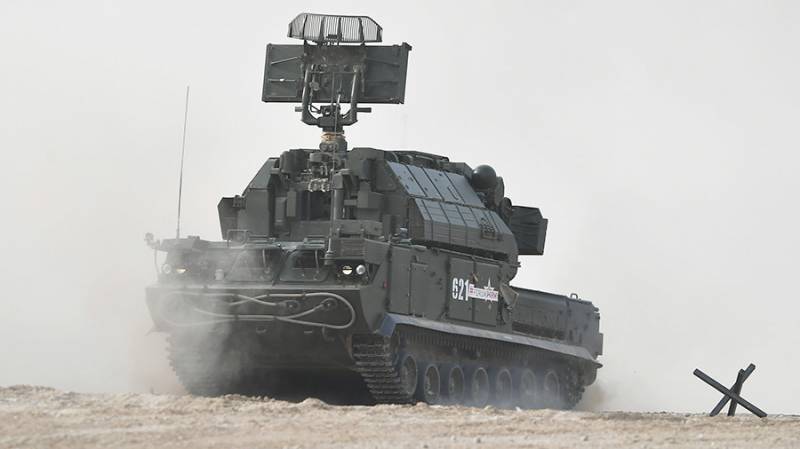 "It is assumed that in the coming years, individual anti-aircraft missile divisions (AESD), which are provided by the state in each division of the Ground Forces, will be re-armed with Buk-МХNUMX and Buk-М2 air defense systems. In 3, they will be received by four divisions: two in the Western Military District and one each in the Eastern and Central. In each division of the Buk air defense missile system there are up to three rocket batteries with four launchers, "the newspaper writes, citing the military department.
Another innovation in the framework of the new concept of the development of military air defense is the creation in the motorized rifle and tank regiments of their own areas with the Torahs (Previously, these air defense systems formed the basis of the air defense of the division).
As the lieutenant-general, retired Alexei Gorkov, told the newspaper, the combination of "Bukov" with "Torahs" will allow each division to provide a full-fledged echelon defense.
"Buki" will hit targets at distant approaches, and "Torah" will provide cover at near frontiers. This will result in a multi-layered, repeatedly overlapping, in particular, in height and distance, air defense zone. Complexes complement each other, "Buki" have some objects of cover, and "Torah" - others. In the aggregate, there will be a single fire system, a kind of "impenetrable dome",
said the expert.
According to him, after the implementation of all the planned activities, it will be possible to talk about a qualitative increase in the capabilities of the military air defense.
Thanks to the new approach, we will get an increase in combat and fire capabilities, noise immunity of the entire air defense group. This will be a major shift from the current level,
added Gorkov.
Buk-М2 - medium-range air defense missile system (up to km 50). The complex is mounted on a tracked chassis and can easily follow the advancing units. This air defense system is known for its versatility and can shoot down both standard aerodynamic targets (airplanes, helicopters, cruise missiles) at all altitudes, as well as more sophisticated means of air attack, such as ballistic missiles or guided bombs.
"Thor" is a tactical anti-aircraft missile system with a firing range of up to 12 km ("Thor-M2" - up to 15 km). It operates almost at the forefront and covers the first echelon of land connections from missiles, UAVs, planning aerial bombs, airplanes and helicopters.