The Ministry of Defense of Ukraine notified concern "Ukroboronprom" that the fleet does not need an unfinished rocket cruiser "Ukraine", reports
RIA News
.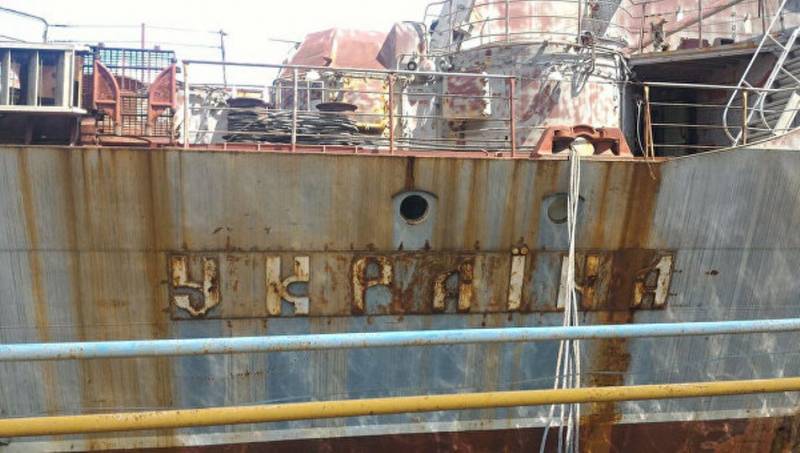 The Defense Ministry confirmed that it is not expedient to finish building a cruiser for the needs of the Armed Forces of Ukraine. By this decision, the ministry actually removed the question of the need to maintain the cruiser by the state enterprise "Nikolaev Shipbuilding Plant"
- it is spoken in release of "Ukroboronprom".
It is reported that a final decision on whether the republic needs an unfinished cruiser will be taken by the cabinet. The concern is not opposed to completing the project, but it should be allocated funds in the state defense order for 2018 year.
Otherwise, it is necessary to "sell it unfinished or continue to allocate funds for its maintenance."
The company noted that numerous experts spoke of the inexpediency of the completion of the missile cruiser, since the armament for which the ship was created was hopelessly outdated.
The agency recalls that the construction of the fourth in a series of missile cruiser called "Admiral
fleet
Of the Soviet Union of Lobov "began in Nikolaev in 1984. After 6 years, the ship was launched in a state of 75 percent readiness, and in 1993 it became the property of Ukraine and then received its current name.
All this time, the cruiser stood at the pier of the shipyard.
In March, 2017, the president, Petro Poroshenko, signed a decree on the demilitarization of the cruiser. According to local authorities, the ship's hull and turbines may be of interest to potential buyers.