The UN General Assembly on the eve adopted a resolution in which it refused to recognize Jerusalem as the capital of Israel. Recall that the issue of this issue to the public vote occurred in connection with the recognition of Jerusalem as the capital of the Jewish state by US President Donald Trump.
The resolution on the non-recognition of Jerusalem as the main city of Israel was made by 128 states. With nine States against and 35 abstentions, the resolution was adopted.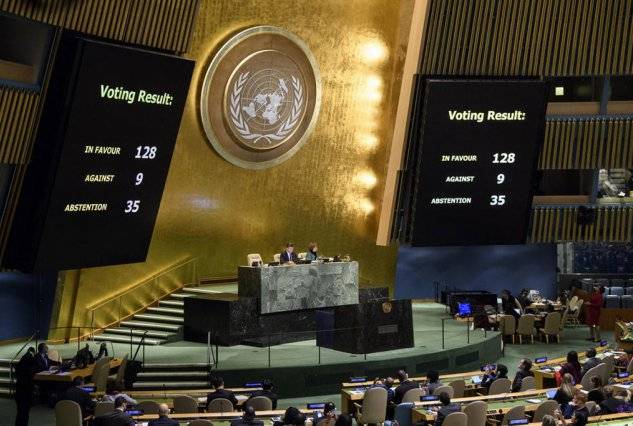 Countries that did not support the resolution besides the United States and Israel: Nauru, Palau, Togo, Marshall Islands, United States of Micronesia, Guatemala and Honduras. Everyone else, as previously stated by the US Permanent Representative to the UN Nikki Haley, Washington, apparently, will have to "take a pencil." Or form a new "international coalition" in cooperation with Honduras, Palau and Micronesia ...
From the resolution adopted by the UNGA:
Any decisions and actions that imply a change in the status of Jerusalem are null and void and subject to cancellation.
Thus, for the first time in many years, the UNGA actually cancels the decision made by Washington alone. Experts call this a serious reputational blow to the United States.
Recall that on the eve of the Israeli Prime Minister Netanyahu called the United Nations "home of the liars."