It became known that the leader of the Communist Party of the Russian Federation Gennady Zyuganov proposed nominating Pavel Grudinin, the general director of a successful Moscow region economy, as a presidential candidate. We are talking about the state-famous Lenin State Farm, which shows an impressive pace of development. Information about the initiative to nominate Grudinin as a candidate by the political leadership of the Communist Party of the Russian Federation was confirmed by State Duma deputy Valery Rashkin.
It is noted that the final decision on the candidate for the Communist Party will be taken at the congress of the Communist Party, which will be held on Saturday 23 December. Before this, the question will be discussed, of course, with Pavel Grudinin himself.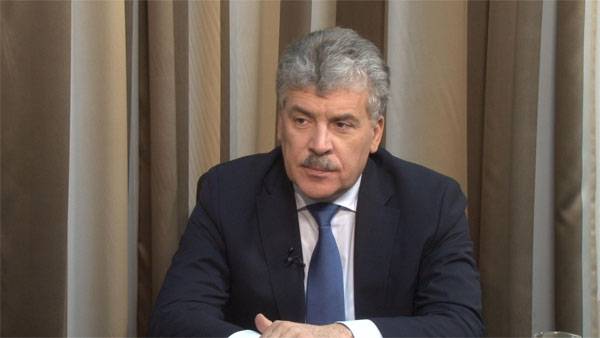 The congress will also discuss whether Gennady Zyuganov himself will be nominated as a presidential candidate.
Valery Rashkin's statement:
Zyuganov will definitely participate in the election campaign, since he is the chairman of the party. Another question is who?
Experts note that Pavel Grudinin (in the event of his final nomination) with the support of the Communist Party of the Russian Federation has substantial chances to get a sufficiently large number of votes, even despite the fact that this person can hardly be called a "media person". The reason is that many Russians are tired of media people and pay attention to the results achieved by people.
For reference: Pavel Grudinin received a degree in mechanical engineering at MIISP im. Goryachkina, in 1982, graduated from the Russian Academy of State Service under the President of the Russian Federation with a degree in jurisprudence. Three times elected deputy of the Moscow City Duma. He has numerous diplomas and awards from the president, government and parliament of the country, as well as the title "Honored Worker of Agriculture of the Russian Federation." According to recent data, the Communist Party of the Russian Federation is not a member, however, as they say, it sympathizes with this particular political party.