Sri Lanka officially leased 99 deep-sea port Hambantota on its south coast to China for a period of XNUMX.
bmpd
With reference to the website of the National Research Institute of World Economy and International Relations named after EM Primakov.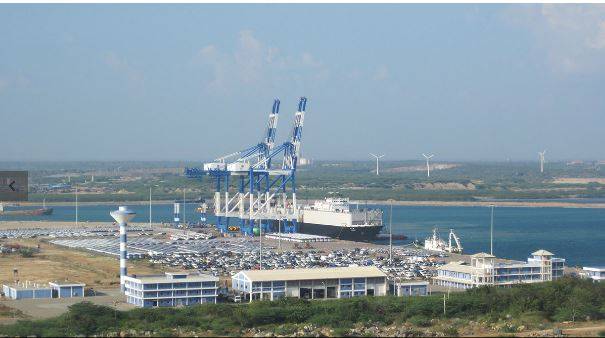 "This deal, under certain conditions, can seriously and permanently change the balance of power in the Indian Ocean and cause a political crisis in Sri Lanka. The Sri Lani authorities are aware of this risk, but, in fact, have no choice: the state owes China a total of about $ 8 billion, "the article says.
Construction of the port of Hambantota began in January 2008. Since Sri Lanka's relations with potential western lenders were extremely tense at that time (the Srilanian authorities were suspected of committing war crimes and violating civil liberties during operations against the separatist Tigers of Tamil Elima liberation), Rajapaksa turned to China for help.
Beijing provided the necessary funds. "However, contrary to the expectations of the Srilani authorities, the project turned out to be unprofitable: the merchant ships preferred to enter the nearby port of Colombo, the economic center and largest city of the country, which has a developed infrastructure," the author notes.
In order to compensate for the losses incurred and at least partially repay the loan, the government offered Chinese firms with state participation to buy out the 80% of the port's shares and lease it. This decision has caused both indignation in India and unrest inside the country.
"The united opposition politicians, the union of port workers, fearing mass layoffs due to the prospect of importing Chinese labor, and peasants living in the neighboring areas of the port who are dissatisfied with the plans of the government for the forced redemption of land and houses, significantly reduced the share transferred to the Chinese side of the port shares. In addition, the final agreement specifically stipulated the unconditional sovereignty of Sri Lanka over the territory of the port leased by China and indicated that the PRC has no right to create a military base there, "the article says.
In India, they are anxiously watching the growth of Chinese investment in Sri Lanka, fearing that the country's increased dependence on Beijing will lead to the loss of New Delhi's political influence. The Indian authorities have traditionally perceived Sri Lanka as a country under the influence of India, and are very wary of the increasing influence of any other power in Sri Lanka, especially China.