21 December The Russian Navy marks the launch date of the world's first nuclear submarine with the K-222 titanium hull of the 661 Anchar project, which has become the fastest in the world, according to the Department of Information and Mass Communications of the Russian Defense Ministry
It was on this day of 1968 that the world's first nuclear-powered submarine with a titanium hull was launched at the SEVMASH plant in Severodvinsk, and on December 31 1969 the Naval Flag was raised on it, and it entered service
- said in a statement.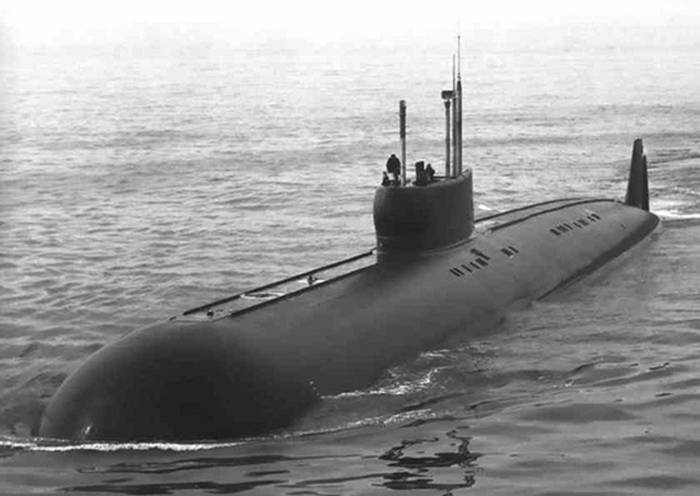 Work on the creation of a new generation submarine was launched in December 1959 in TsKB-16 (now the Malakhit SPMM). N.NN was appointed her first chief designer. Isanin, later on this post he was replaced - N.F. Shulzhenko. In total, 400 defense enterprises were involved in the creation of this submarine.
18 December 1970 The boat showed a sensational speed in the 44,7 node (over 80 km / h) on the measured mile underwater - this record has not yet been surpassed.
In the fall of 1971, the K-222 went into service in the Atlantic and, thanks to its unrivaled fast speed, easily pursued a US attack aircraft carrier from the Greenland Sea to the Brazil Basin. Racing on the Atlantic lasted two and a half months, during this time, "Anchar" surfaced once.
The submarine was armed with P-70 Amethyst cruise missiles and performed missions as part of the Northern
fleet
. At different times, she was based in Zapadnaya Litsa and Vidyaevo. In 1984, it was decommissioned, in 1989 it was expelled from the fleet.
According to modern scientists and shipbuilders, the Anchar project was an extremely expensive experiment in
stories
submarine shipbuilding, but unique design solutions introduced during the creation of this submarine formed the basis of the first mass series of Soviet nuclear submarines with anti-ship missiles of the submarine launch - the 670 project ("Skat") with the Amethyst complex and the 670 M project (Chaika ") With the new Malachite P-120 complex.