The terrorists are attacking the Kurds in Deir ez-Zor. The CAA and its allies advanced on a sweep in the southwest of Damascus. Reports about it
FAN
with reference to Syrian sources.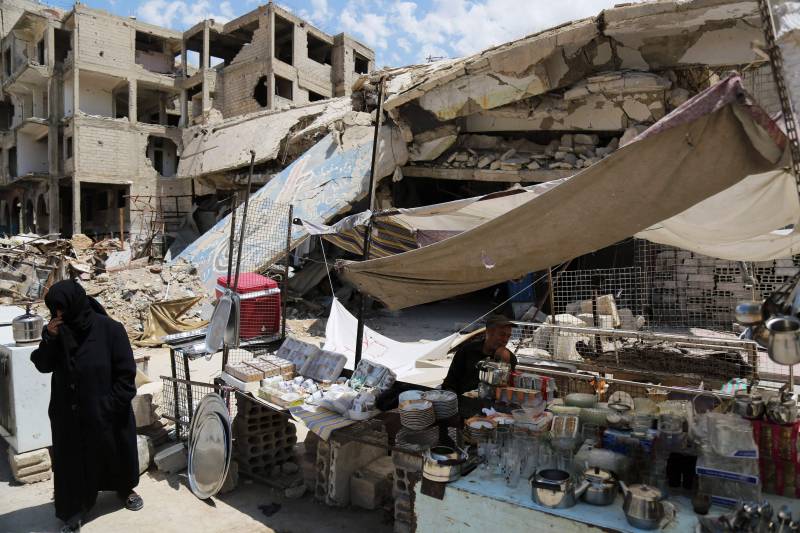 In the south-west of the province of Damascus throughout the day there were clashes between the government army and the militants "Dzhebhat An-Nusra" (banned in the Russian Federation). The Syrian army managed to free the Marwan high ground, establish fire control over the Beit Jinn-Mughr Al-Mir strategic line, and also over several small highways. In the area of ​​Eastern Guta, battles between the UAR forces and anti-government groups continued to unfold. During the confrontation, three Islamist military pickups were destroyed.
Last day it became known about the death of one of the high-ranking leaders of the terrorist coalition - Kassil Mustafa Al-Hillo died from injuries sustained during a bomb blast in the city of Darat Izza (Aleppo Province). In the southern part of the region, clashes were recorded between the radicals of "Al-Nusra" and the forces of the SAR, which were supported by the Russian HVAC. Opponents fought near the villages of Ramla and Rasm Sayal. On the losses of the parties are not reported.
On the left bank of the Euphrates River in the province of Deir ez-Zor, the IG terrorists (banned grouping in the Russian Federation) again activated the fighting, which managed to escape during the mopping up of the right coast by the forces of the government army and the Russian Federation forces. To the north of the city of Abu Hammam, near the village of Al-Jurdi Al-Sharqi, militants attempted to attack the strongholds of the Syrian Democratic Army (SDF), killing one of the Kurdish fighters. Nevertheless, the attack was able to repel, igilovtsy lost at least 21 action movie.
During the day, the artillery battalions of the Syrian Arab Army (CAA) fired at the fortified areas of the anti-government group "Al-Nusra" near the city of Al-Latamin (Hama province). Significant support to the CAA was provided by military aircraft of the Russian Aerospace Forces and the Syrian Air Force, which bombarded the strongholds of the Islamists. CAA also forces and equipment to the area of ​​the village. To the northeast of Hama continued the clashes of the IG terrorists who fled from the "Akerbatskogo boiler", and the militants of "al-Nusra". Opposition Twitter feed claimed that at least one unit of igilovtsev military equipment was destroyed during the shootings.
The Syrian Arab Army (CAA) began mobilization in the territories under its control in Hasaka Province. Not less than a hundred soldiers from various militia groups arrived at the CAA military base, located on the outskirts of the regional capital.