December 20 will definitely enter
history
European Union. For the first time in EU history, EU officials are launching a sanctions mechanism against one of the member countries. We are talking about sanctions measures against Poland.
The officially announced reason for considering the possibility of imposing anti-Polish sanctions is "the departure of Warsaw from the norms of democracy and law". It was these words that were voiced today by the first deputy head of the European Commission, Frans Timmermans.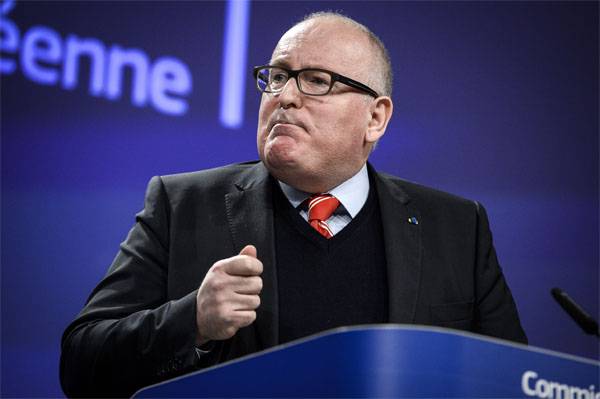 The European Commission decided for the first time to use the 7 article of the all-European statutory document. This is an article 7 of the Treaty on European Union. This article suggests that any EU member state may be limited in its rights if it departs from common European values.
At this stage, the European Commission is initiating the deprivation of Poland of the right to vote in the European Council. A special piquancy of the situation is added by the fact that the President of the European Council is the Pole Donald Tusk.
From the EC statement:
Within two years, the Polish authorities passed no less than 13 laws that affected all structures of the judiciary: from the National School of Law to the Constitutional and Supreme Courts. This led to the fact that the entire judicial system of Poland came under the control of the ruling majority. In the situation with the deprivation of Polish courts of independence, the question arises as to how they can defend European legislation.
Warsaw given the "last" warning. It lies in the fact that if Poland fails to return the judicial system to the pre-reform version within 3 months, the EU will have to impose sanctions against Warsaw.
Poland itself is confident that the possible imposition of sanctions is related primarily to the fact that Warsaw actually refused to accept refugees according to European quotas.