The United States's reaction to the fact that their permanent representative to the UN, Nikki Haley, remained without the support of even the closest allies during the voting on the resolution on the status of Jerusalem, turned out to be frank threats from Washington. In a British newspaper
Gurdian
An article was published in which a statement was made by the "insulted" Ms. Hayley, eager for revenge.
Frankly getting used to the fact that the permanent representative of the United States will be supported in any matter during the voting in the United Nations, Washington can not accept the situation when the Allies questioned this rule. Now in the United States they say that in fact they are switching to a system in which everyone who votes differently than the United States will take a pencil.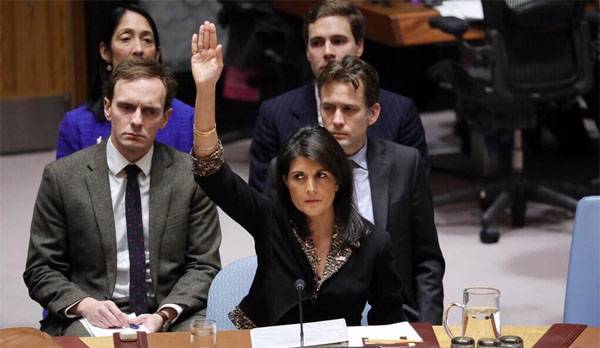 From the statement of Nikki Haley herself:
You can plan your vote, but I emphasize that the president of the United States and our state will take all your votes on a personal account. The President (USA) carefully watched the voting. He demanded that I provide him with information about who voted and how. I remind you that in the UN, the United States always require more (hinting at financial investments).
As you can see, the United States is switching to the practice of open blackmail, which can be described with the well-known phrase of the Soviet comedy "And if they do not take (in this case, vote), turn off the gas".