The automatic UAG-40 grenade launcher produced by Ukraine has passed state tests, the military portal reports
Ukrainian Military Pages
UAG-40 (universal automatic grenade launcher caliber 40 mm) - 40-mm automatic machine-based grenade launcher with belt feed developed by KB "Exact Mechanisms".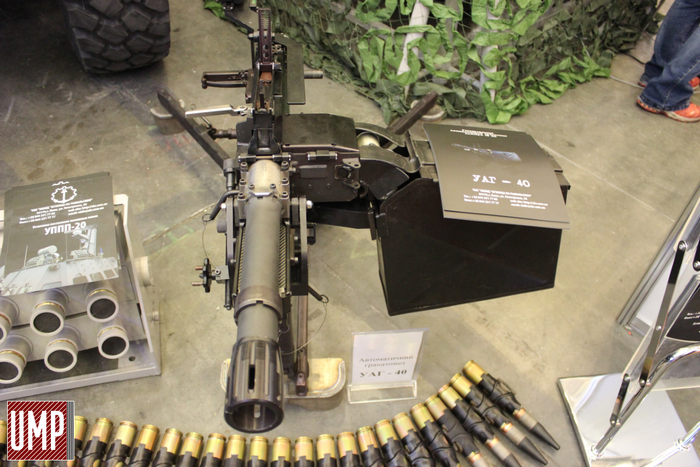 According to the project manager, the total weight of the grenade launcher is 30 kilograms. Carrying is carried out by two fighters: one is directly grenade launcher, the second - ammunition. For comparison, the American counterpart (MK-19) is twice as heavy - 65 kg.
The mechanism of UAG-40 is based on automation with a free gate. Nakol cap and shot occur in coasting. Submission of grenades - tape (American metal tape M16). Grenades are high-speed, using all existing types of grenades of the NATO standard (40х53 mm).
As Ukrainian developers say, if we compare all the 40-mm grenade launchers that are currently being produced, then the grenade launcher is at the forefront in terms of "low weight - high accuracy". At the same time, the design contains a small amount of parts, new coating technologies, including the bore.
To improve shooting accuracy, Ukrainian experts have introduced a multi-stage barrel cutting. It performs the function of a whirligig, which rotates the structure, but at the same time itself remains in place in one position. Also in the design, the fighter sits on a tripod, in this way it is additionally balanced and has all the functions of accurate approach, the grenade launcher manufacturers report
Production of grenade launchers and ammunition established at the Kiev factory "Forge on Rybatskoy", owned by Petro Poroshenko