According to Indonesian media, on December 18, 2017, the first three Army-delivered first military vehicles were delivered from the United States to the Lahumad Ahmad Yani Airport in Semarang (Java) by Boeing C-17A Globemaster III US military transport aircraft
aviation
Indonesia combat helicopter Boeing AN-64E Apache Guardian.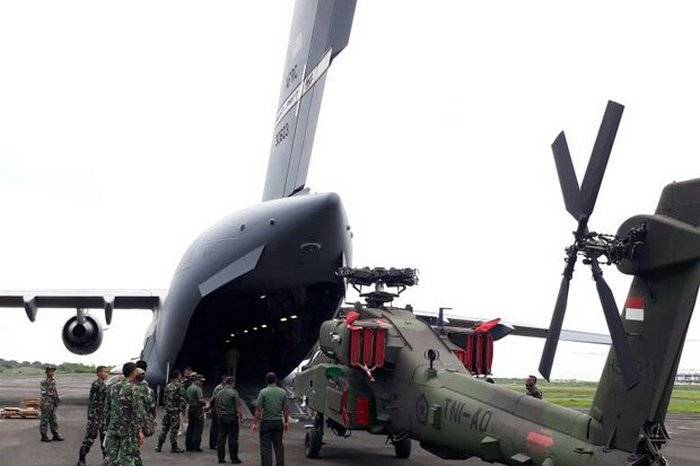 In total, according to the US-Indonesian intergovernmental agreement concluded in 2012 within the framework of the US program of foreign military sales Foreign Military Sales (FMS), Indonesia acquired eight AN-64 Apache Guardian helicopters of new production, four of which should be equipped with AN / APG-78 Longbow radar. The total cost of this sale is 1,42 billion dollars, including technical support, training and supply of weapons, including 140 AGM-114R3 Hellfire missiles, bmpd blog writes.
It is reported that five other AN-64 helicopters under this agreement are to be delivered to Indonesia in February 2018. The AN-64E helicopters will enter service with the 11 th squadron of the 1 th wing of the Indonesian Army Aviation based in Semarang. Now this squadron is equipped with eight Bell 205A-1 multi-purpose helicopters and eight NBell 412 helicopters.