Today, the builders have completed the creation of a single canvas connecting the Kuban with the Crimea peninsula. It is about the completion of the construction of the basis for the road part of the Crimean bridge. Metal structures weighing more than 100 thousand tons are located on 288 supports.
The road part of the Crimean bridge stretches for more than sixteen kilometers, of which more than six kilometers pass directly above the water (above the Kerch Strait). Another two kilometers are actually overland, which makes the Krymsky Bridge the longest bridge in Russia.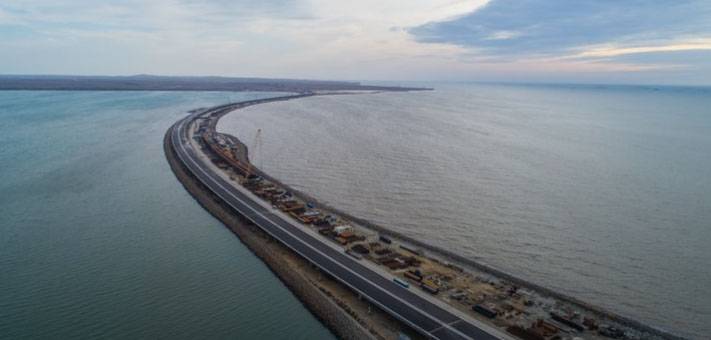 At the same time, the bridge was built with a gradient in 30 meters - the height smoothly increases to the shipping arch from 5 to 35 meters.
From the official report:
By connecting the bridge deck under the road, the bridge builders completed the 2017 production program of the year. In the future construction season, the road workers will "dress" the Crimean bridge in asphalt concrete and by the end of 2018, they will prepare for the start of car traffic.
At the same time, the pace of construction of the railway part of the bridge connecting the Crimea to the mainland of Russia is not reduced. Plans indicate that rail traffic on the Crimean Bridge will be organized in 2019.