At the quay wall of the head plant of the Zvezdochka Ship Repair Center, the construction and an extensive program of mooring tests of the order, which began in September this year, is continuing, reports
zvezdochka-ru.livejournal.com
.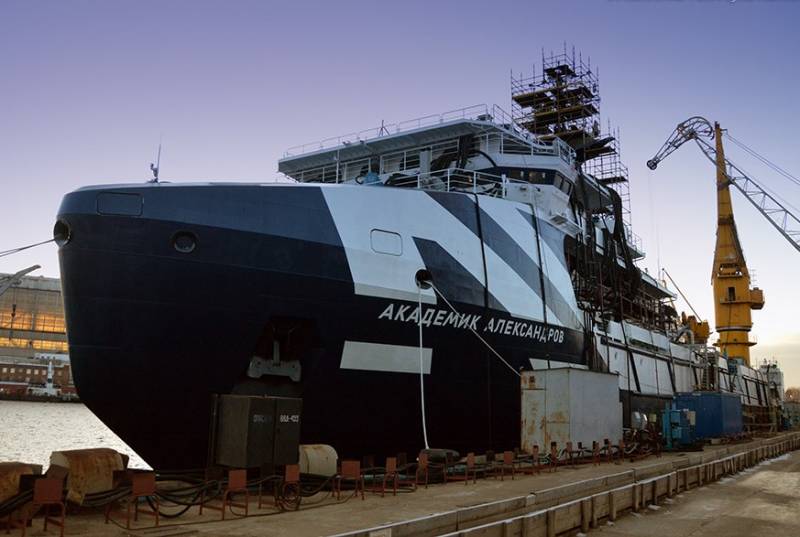 At the beginning of December, the technical readiness of the vessel was more than 80 percent. According to the technical project, the third order in the series is intended for rescue operations and deep-sea research of the world ocean.
"Work is being carried out in several directions at once. After the completion of the hull construction, the main task of the shipbuilders and contractors was the formation of systems and the connection of equipment. Almost completed work on the engine-boiler department, completed tests of the main body and tanks, control tests which are scheduled for December of this year. In November, 2017, the shipbuilders successfully launched the power installation of the order with the synchronization of all diesel generators. This gave a start to the mooring tests of the cooling systems of a power plant, fire extinguishing, electric propulsion, "says the release of the company.
It is reported that the main working equipment "Alexandrov" are cranes, of which there are three on board the vessel, carrying capacity from 2 to 100 tons. Their feature is individuality. By the end of the year it is planned to complete the cargo tests of these new products.
Shipbuilders say: "The project of St. Petersburg machine builders, although new, can already be judged that by a number of characteristics it significantly exceeds foreign analogues, including a heavy crane from an Italian manufacturer in the first" academician "built at the Yagrinsky shipyard -" Akademik Kovalev ".
Against the general positive background of the successful course of work, there are some negative points: "a reduction in the financing of the construction program hinders the pace of work in terms of timely payment for planned supplies of equipment and materials, payment for work of contracting organizations." Therefore, the deadline for the delivery of the vessel is somewhat shifted, as is the planned first departure to sea for sea trials.
According to the latest information, sea trials are scheduled to begin next summer.