Greetings to you, my dear friends! Did you miss the voices of the hells ... from the most European country of Europe? And as this "voice" missed. Can't imagine. Why all? Because I understand that you are bored without us. You live just like your grandfathers, great-grandfathers, and absolutely great-great-great-great-grandfathers. Build roads, bridges, houses, spaceports, terrorists of all kinds. Boredom. And most importantly, well, you do not want to become a "civilized" humanity.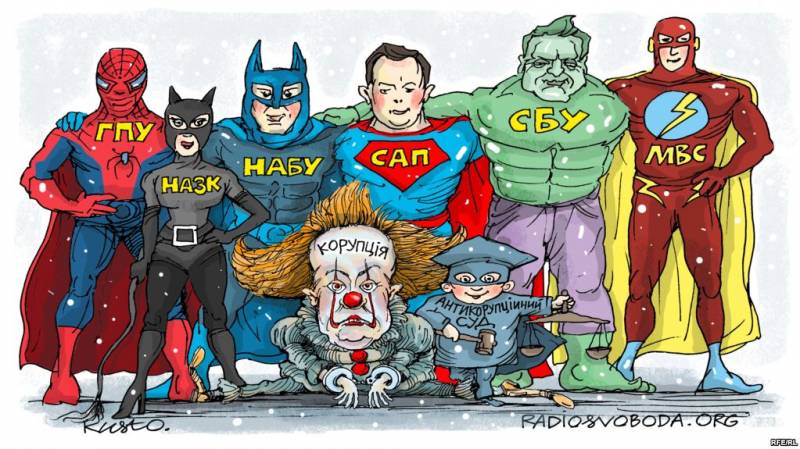 Here the other day. We gathered at the TV to see how our friends from Kanadchina will smear your hockey team on the ice. In Vyshivanka, chitin is already dark with excitement. So what? Is it possible with guests? People the devil knows where they flew to you. You could say risked lives, although what is there to risk? Airplanes do not fly over Ukraine. But still. Could respect show. Well tried your Canadians really smudge. So what? They did it in a civilized way! And you? They took and offended them for the most ... dignity.
Probably, as it is now fashionable, your hockey players pumped something. Ozverinom. How else to explain? Here we are in the example of your football team lead. That's who plays doping on 146% ...
In general, well done your hockey players! Such hockey and we would need. Only here we have this difficult. We have no time to deal with this nonsense. That you have all the old fashioned way. The Interior Ministry catches criminals, the FSB of all spies and terrorists. And we have...
NABU, GPU, SBU ... Here, try, like us. Catch the criminal and make him the Attorney General. Or take the fool from a mental hospital and make him the speaker of the Duma. Although, it should be noted, as I understood it, while watching the press conference of Putin, you still have such normal steps in this direction. This is me about Rodchenko.
By the way, yes, Olympic jokes will not go round. You asked about our attitude to your Olympic problems. So here. There is a single opinion. It happens in two ways. And we have a lot of some.
Most for the exclusion of your athletes from the Olympics. Sanctions for aggression against Ukraine. The next group is for the removal of Russia due to a hybrid war with the global West. Well, the smallest group for punishing certain people for doping, and not the country. But these are very few. Moreover, about the dope, we in the majority of the media only mention. The main thing - the sanctions for the aggression against the poor.
Okay. I understand that you are more interested
news
our country. Therefore, I will write the truth about us and only the truth. And for starters, the truth about your propaganda media. Well, it is impossible to pass by this press conference. Your president again spat in the face of all progressive humanity in the face of our correspondent.
Well, is it possible? Okay, our journalist mixed manure. It's clear. The novel has been working in Moscow for a long time. Even when Yanukovych began. Obzhilsya. Apartment bought. It is clear that he does not want to return to Kiev. So in your media so distorted some moments that half of Ukraine was on the ears.
Remember the journalist from Tatarstan with the poster "Putin babay"? Yeah. Then she translated somewhere else, saying that it was Tatar "grandfather". Read the editorial in our "Apostrophe"! The poster was written ... "Putin Bai Bai"! This is how the deputy head of the editor wrote. And we believe him. The TV picture was just fixed live. And you did not know ...
But back to our fighters against ... It was somehow difficult today to determine who is who in Ukrainian politics and life in general. That is honest. Half of the politicians in Ukraine are Putin's agents. So we are constantly told. And the other half are agents of the Kremlin. This is also told to us. And those who catch them are corrupt. It is necessary to come up with a multi-path, for example, with Miho.
Putin helps organize mikhomaydan. Then helps the authorities to deal with this very Maidan. Then he calls the representatives of the Security Service of Ukraine, the security service of Georgia to Minsk. Allegedly, to celebrate the 100 anniversary of the Belarusian KGB. And secretly conducts negotiations with all of them for the extradition of Saakashvili to Georgia. Hmm ... School of the Soviet KGB. Amazing! Say, dope? That's the way it is, but we all believe in it ...
But there are positive moments in our lives. I have already hinted to you about the upcoming holiday. Tell me, has your state taken care of your cultural growth while eating Russian salad and herring under a fur coat?
Will you again watch "Irony of Fate ..."? Primitive.
But we have the State Agency for Cinema provided a list of films and TV shows that we will definitely watch. And what a choice! 663 position. Look I do not want.
Hello, fools! Still Waters, Two destinies, Under a shower of bullets, Not one step back, Elemental formula, Forty-eyed, Sorcery love (1-62 ser.), Weekend affair, A weighty reason for killing, Hear my heart, Winter tango, Perfect Marriage, Love Mistakes, Assault Brotherhood, Queen of Thugs, 30 Dating and Eternal Vacation (1-3 Ses.). Babylon AD and 102 Dalmatians. Equation of love and Solo on the saxophone (cameraman Igor Klebanov), The Case of the Dead Souls (director Pavel Lungin), House with lilies (actor Sergey Makhovikov), You present (actor Dmitry Kharatyan), Attraction (actor Valentin Gaft) and Divination by candlelight ( actor Vladimir Gostyukhin). Forget-me-not, Frenchman, Kidaly, Kidaly on the run, Kidaly in the game, Dropped here !, Oles Buzina: life outside time, Grandma of easy virtue, Love and separation, Officer's wives, Task of special importance. Operation Typhoon, Angel on the roads (Lonely woman with a child), Great Walk, Vanka the Terrible, New Year Ambush, Joy Time, December 32, Frody, Heart is not a stone, And yet, I love Tariff Happy family.
All will not list. And then you, too, will start watching these films. The Central Europeans should have at least some kind of privilege. True, according to Ukrainian tradition, the list was published as prohibited films. But we all understand ...
By the way, I have a personal question to this list. Why not banned the Polish TV series "Four tankers and a dog"? There, a driver with a very suspicious last name was Saakashvili ... They were not working out. And the second question. "Bobby is visiting Barbosa"? Why is it "recommended"?
Well, another news from the field of culture. Vice Prime Minister of Ukraine Vyacheslav Kirilenko announced a new order from the State TV and Radio Committee on confiscation of books illegally imported from Russia.
"It lies in the fact that when in the book markets or bookstores any literature originating from the aggressor country is distributed illegally (that is, without formal permission), then such literature will be seized by law and the distributor of such literature will fall under penalty the sanctions and the fine are the 10 minimum wages - 32 is thousands of hryvnias, and if such cases are repeated, the same business entity will receive a fine already in the 50 minimum wages (today XNU MX thousand hryvnia) ".
Like this. Somewhere space tourism, and somewhere cave nationalism. But, on the other hand, tires come to an end. What to burn on the Maidan now? Yes, and American coal without gas does not burn. And books are still paper. And, given the constant development of our education and science, the country should really get rid of unnecessary junk. We need our own books. To have more pictures and fewer letters.
I wonder what the next step will be? Honest, interesting. Sorry for the intimate details, but it seems to me that we just need to now put a system of listening to the bedrooms of Ukrainians. To determine at the moment of conception who will be born. Separatist or Ukrainian. What language do father-mother communicate at the moment of this very conception ...
Meanwhile, the irresponsible actors of the Kiev Regional Drama Theater. Saksaganskogo went to the rally and went on a hunger strike. Separa unequivocally. You see, 3 doesn't pay the salary to them for a month. And the directors want to be removed from work. They also allocated 24 million hryvnia for art. Well, then reduced to 15. So the war is. Hybrid What nafig theaters, when "Javelins" buy nothing? Yes, and products for the holiday. Their "bucket" louse ... We don't have money to run around theaters.
Won on 1 December, the debt only for hot water in Kiev amounted to 4 billion hryvnia. Of these, the population owes 3 billion. Nothing. Kiev is a rich city. Let's push and pay debts. Or...
Although, "Actual inflation exceeded the forecast published in the inflation report for October 2017 of the year due to the high growth rates of food prices. The current dynamics of the consumer price index and its components exceed the forecast in the inflation report for October 2017 of the year and shows that by the end of 2017, inflation will deviate more significantly from the target level than previously assumed, "the NBU reports.
Now I have a thought in my head. Fat has risen in price by half. About other "achievements" I also wrote. What are 12%? Ukrainian interest now as the hryvnia? Course 1 to 2? And another thought. In Russia, capital outflows have tripled and inflation has been minimal for all years. And we have continuously, as Poroshenko says, GDP is growing and inflation is breaking records ... Paradox? Something is wrong here.
Very unexpectedly for Ukraine for the 10 months of this year, coal mining has declined! On 13%! I certainly agree with our mayor. If minerals are not mined, then they become useless. However, what stoves to heat? Wood and coal is expensive. And with gas ... Although, we got some amazing news about gas. You, my dear readers, are now sad.
For the first time, private enterprise ERU Trading imported to Ukraine and deposited natural gas for storage in UGS, which had previously arrived by sea from the USA! On a gas tanker in Poland brought! And then, allegedly by the CTA was delivered to Ukraine. Sailed is called.
The pipeline from Ukraine to Poland works. And gas, respectively, is transmitted in the same direction. No there is a second branch in the opposite direction. We thought a little here and came to the conclusion that we had another "Slovak gas". It would be more correct to say this: Ukraine took away gas from the gas transport system that was intended for Poland by supplying US gas to Poland. I remember a couple of Russian sayings about this. For seven versts of jelly to gulp and for a mad dog seven miles is not a hook ...
Again we have to recall the institute of national memory. Another peremogh we have prepared. It's about the weekend for the Ukrainians. Too much we rest. The new law is coordinated ...
"If it is adopted in this edition, nine non-working days will be introduced from next year, in particular, four non-working days - public holidays: Constitution Day, Independence Day, Defender's Day and Day of Remembrance and Reconciliation - May 8. One weekend is International Labor Day and four more weekends are traditional holidays: Trinity, New Year, Christmas and Easter, "said Anna Baykenich, a representative of the Ukrainian Institute of National Remembrance.
Did you notice anything? Victory Day we will not have ... And Orthodox Christmas, too. Considering the fact that recently Gunpowder signed the law on the celebration of Christmas 25 December ... We lost the war and abandon Orthodoxy. No more and no less.
I want to talk about one case for the attention of some readers who still have a thirst for the Maidan in Moscow. An ordinary case, but think about it.
In the Dnipropetrovsk region, unknown persons burned the car of a Russian citizen Alexei Shumak, who left his homeland because of pro-Ukrainian views.
"Neighbors say that some time ago, some kind of foreign car was driving around the village as if it was looking for something ... I had this thought: what if it caught fire itself? But she couldn't catch fire, because the battery was disconnected, she didn't go half a year. Firemen arrived in 50 in minutes, but there was nothing to extinguish, "the man said. According to the victim, he traveled on this very machine in his native St. Petersburg with the inscription "I demand to withdraw the troops from Ukraine."
Hand of the darkest reached out? Or something else? In terrible Mordor I rolled it on a car and everything was on the drum, and in a stronghold of democracy ...
Well, I do not want to finish the notes on such a note. Need a real peremoga. Readers also remember the last. So that you envy the Ukrainians. I have such a "stash". So, Peremoga!
Our mayor, indefatigable Vitaly, started building a giant flagpole in Kiev! Total for 47-50 million hryvnia.
"I would like people not to speculate on this topic. For the national flag and our state, the defenders of Ukraine give their lives today in the east of the country. We must establish the main national flag of the country in Kiev."
The flagpole will be made of 75 steel with a total weight of 85 tons. It will hang the 12,5 flag on 19 meters. The grand opening was scheduled for the Flag Day of Ukraine - 23 August 2018 of the year.
Are you jealous? But we think. What the hell is this? Give the flagpole 150 meters high! You need to gain credits and build. And at the very top, on a fork also fasten a huge dumpling. To enhance the national flavor!
True, one question is gnawing at the mayor. In the Dnieper, too, approved a plan with a flagpole. And they will build too. On the 3 meter below. But the cost of their construction "total" 8 million hryvnia. So, why are the last 3 meters so expensive?
Okay. Enough for today the black humor of our lives. Be that as it may, but we will sometime follow the hero of one famous comedy film, I will not mention the names for conspiracy purposes, we will repeat the beautiful phrase: "There were demons. We do not deny this. But they self-liquidated. "
In the meantime, see you soon. Be sure to run on the holiday to congratulate. I can not without friends, you see. Once again to wish happiness and health to a good person is always a pleasure. So to all the happiest "eve" of the upcoming holidays. Smile and be friendly with everyone!