Polish television comes out with material in which it reports that the MiG-29 fighter aircraft of the Polish Air Force suffered a crash. The material states that the plane crashed near the city of Minsk Mazowiecki. According to the latest information, the crash occurred at the time of the landing of the MiG-29 for landing.
News
reports from Poland indicate that the pilot managed to eject, he was found and taken to the nearest hospital.
The Ministry of Defense of Poland stressed that there was one pilot on board the fighter. The plane performed a scheduled flight to patrol the airspace.
From the material:
Aircraft MiG-29 Polish Air Force is completely destroyed and can not be restored. Its fragments were found a few kilometers from the village of Kalushin.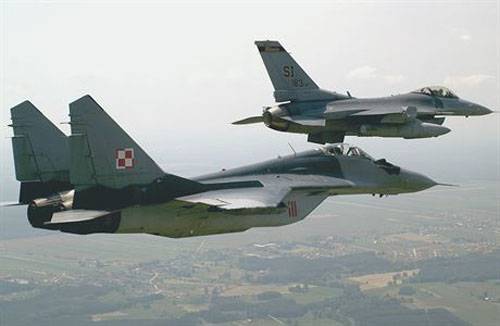 There is information about the Polish pilot piloting the fighter. This is a 28-year-old Air Force soldier who has 400 flying hours. Of these, about two hundred are a raid on the MiG-29.
The article states that the pilot did not send any reports of technical malfunctions on board to the "tower".