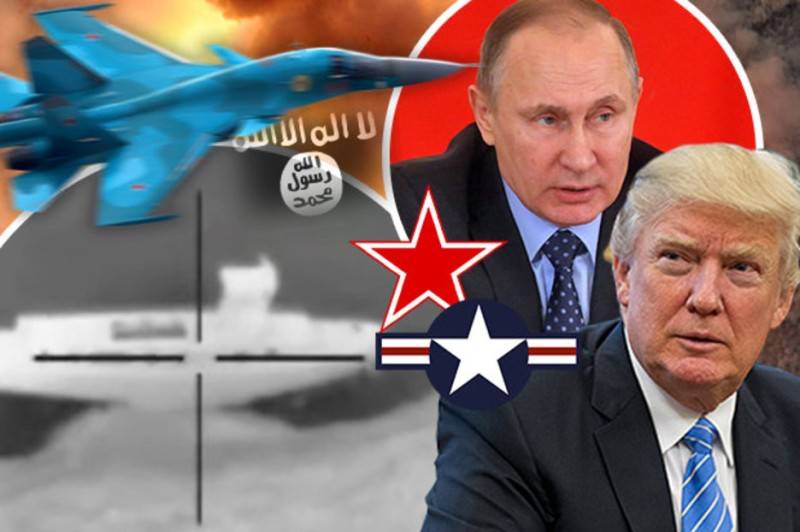 Washington has once lost the war in Syria. Now he is going to lose it a second time.
A couple of days ago, Russian President Vladimir Putin announced a "complete victory" in Syria:
"Two days ago, the (Russian) Minister of Defense reported to me that operations on the eastern and western banks of the Euphrates had been completed with the complete rout of the terrorists."
The commander of the Iranian forces supporting the governments of Syria and Iraq informed Washington that all American troops remaining in Syria would be dislodged from there:
"Brigadier General Haj Kassem Suleymani, commander of the Islamic Revolutionary Guard Corps, through Russian representatives advised the head of the command of the American troops in Syria to withdraw all American units to the last soldier" otherwise the gates of hell would open. "
"My message to the US military command: when the battle against ISIS * (Islamic State groups *) ends, not a single American soldier in Syria will be tolerated. I advise you to leave on your own, or they will force you to do it. "
As reported, Russia has confirmed that it will remain in Syria for as long as President Assad decides, who insists on freeing all of Syria without making exceptions for the Americans. Washington's plans to occupy a corner of Syria and revive ISIS failed, as all the victims among American soldiers for this purpose will be in vain.
It is also reported that CIA director Mike Pompeo sent Suleymani a letter expressing his concern about Iran's intentions to attack US facilities, saying that Washington "would bring Suleymani and Iran to justice for any attack."
It is known that the CIA's letter had no effect and was perceived with complete contempt:
"The head of the Great Ayatollah Ali Khamenei service, Mohammad Mohammadi Golpayegani, confirmed that Pompeo was trying to deliver the letter, but said that:" Suleymani refused to read it and even take it in his hands, because he had nothing more to add. " Sources on the ground are confident that it is not unbelievable that Kurdish troops - operating in Al-Hasaka and loyal to the government in Damascus - are ready to lead an offensive against US troops. Many of these fighters remain loyal to Syria: they reject any occupation forces on their land or the division of the country. "
Some recall the events of 1983, when hundreds of American marines and French paratroopers were killed in a double bombing by Islamist suicide bombers in Beirut. As a result of this terrorist attack, American troops in a hurry got out of the country. The future may well be a reflection of this past.
Perhaps this is "fake
news
". If not, we must accept that the humiliation to which the United States, their government and their population have been subjected is the work of the neo-conservatives and their doctrines of American world hegemony. It was the neo-cons that led to the US war with Muslims lasting 16 years. It was the neoconservatives, acting through Obama and Hillary, who plunged America into a humiliating defeat in Syria.
These neocons are a miserable handful. Why do Americans tolerate them?
Why won't Trump arrest them? They are anti-American, pro-Israeli to the bone. Neocons are the worst enemies of Americans and all of humanity.
It seems that the Russians are fed up with the arrogance of Washington.
Russian General Konashenkov, whose Su-35 drove away some American F-22 trying to prevent a Russian strike against militants, said that any claims by the American military authorities that there is "any part of the airspace in Syria that" belongs to the US ", Puzzling." Konashenkov also noted that "Syria is a sovereign state and a member of the UN, which means that there can be no" US own airspace ". In contrast to the Russian Air Force, the US-led coalition operates in Syria without any legal basis. "
Will it finally reach Washington that he has squandered his leadership in the Middle East and is it time to get home, or will he cover America with even greater disgrace?