Tests of the combat robot "Nerekhta" in winter conditions will be held in the town of Kovrov, Vladimir region, according to the Department of Information and Mass Communications of the Ministry of Defense of the Russian Federation
In the 467-m interspecific district training center ZVO in the course of conducting tactical exercises with motorized rifle units, military tests will be held in winter conditions of the Nerekhta robotic complex in order to determine the location of the combat robot in the structure of ground forces units when conducting general arms combat
- quotes
RIA News
military department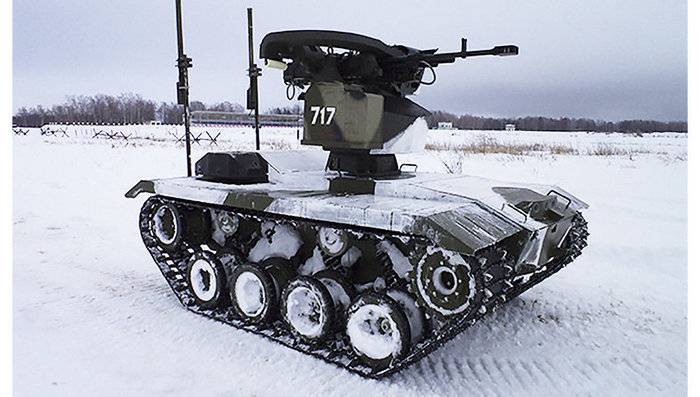 The Defense Ministry noted that to test the combat qualities of the complex, a special route was prepared at which the capabilities of the robot in the area of ​​mobility and overcoming obstacles will be tested, as well as the standard equipment of the Nerekhta will be tested
According to data from open sources, the Nerekhta complex was created as a universal transport platform for delivering cargo and working even in 14 specialties. Depending on the installed module, the robot can patrol the area, conduct reconnaissance, detect enemy artillery positions and remove the wounded from the battlefield. Nerekhta is equipped with an unmanned helicopter and operates in the uniform information field of the company.
Three modules have been developed for the platform: combat, transport, and artillery reconnaissance. The combat module in various versions is equipped with a 12,7 mm Kord machine gun or a 7,62 mm machine gun
tank
machine gun "Kalashnikov" can also be additionally equipped with an automatic grenade launcher AG-30M.