By the end of the year, United Shipbuilding Corporation (USC) will receive from the budget another 870 million rubles. for the completion of the diesel-electric icebreaker LC-25 "Viktor Chernomyrdin", reports
Kommersant
.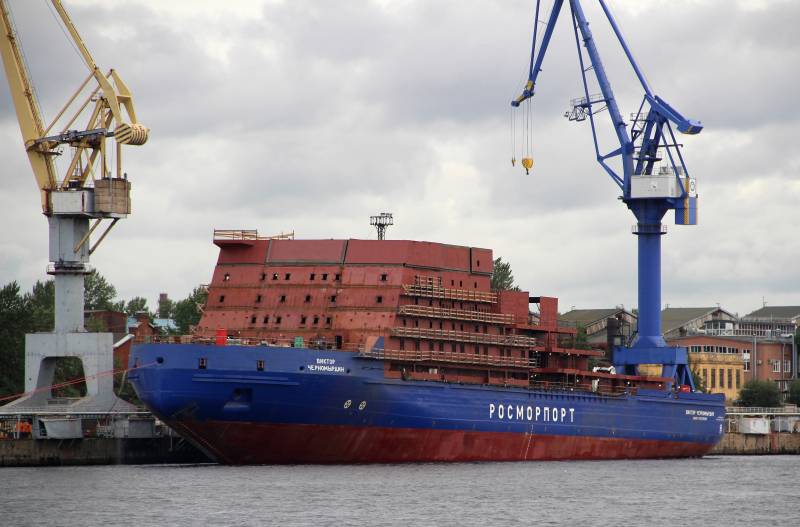 The money will be transferred to the authorized capital of the USC and subsequently will be transferred to the accounts of the first Baltic plant, which originally built the icebreaker, and then the Admiralty Shipyards, which began its completion in the summer.
The funds will be transferred "to pay off losses incurred in connection with the completion of construction," explained the Ministry of Industry and Trade.
According to the newspaper's source, "the losses are connected with the influence of external and internal negative factors of the economy, currency fluctuations and the need to attract loans."
"Contract in 7,9 billion rubles. on LK-25 FSUE "Rosmorport" and USC concluded in 2011 year. The customer was supposed to get an icebreaker in 2015, but Baltzavod had problems with the project: the designer was changed several times, as a result, the development was transferred to Nizhny Novgorod Vympel Design Bureau, which is part of the USC. Because of this, the ship had to be reworked already "in metal", which took a lot of time and effort. In the year 2014, with the devaluation of the ruble, imported equipment went up in price, which led to an increase in construction costs, "the material says.
In the summer, USC transferred LC-25 to the construction of the Admiralty Shipyards.
In September, a tender appeared on the state procurement site that revealed the legal mechanism of the transfer: Baltzavod attracted Admiralty Shipyards to construction as a contractor. "The main issues were caused by the price and terms of work specified in the tender:" Admiralty Shipyards "pledged to complete the construction of an icebreaker for 3,7 billion rubles. by June 2019 of the year (30 of September 2018 of the year is to be officially surrendered), the publication notes.
Meanwhile, USC says that 3,7 billion rubles. - expert review.
"It includes not yet selected funds under the contract. Materials are currently being prepared for price examination based on the results of the development of the ship's project documentation in the final construction and taking into account the actual costs of equipment, materials and other factors. Only according to the results of the examination, it will be possible to talk about the size of the missing funds, taking into account the allocated support, "the corporation explained.
Currently, the readiness of the icebreaker is estimated at 55%.