The terrorists stepped up fighting in the western outskirts of the city of Aleppo. The United States forms the "New Army" of militants in Hasaka. Reports about it
FAN
with reference to Syrian sources.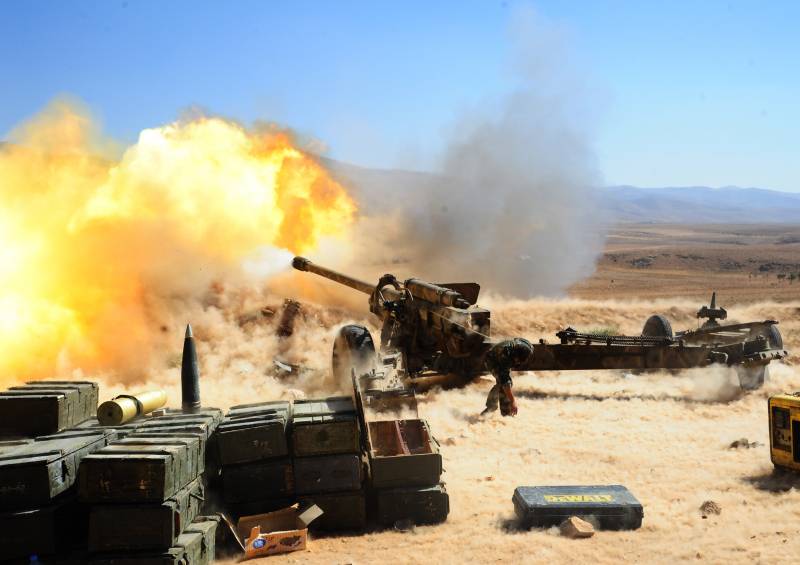 In the vicinity of the village of Mugr Al-Mir, located in the south-west of Damascus, fierce fighting continued between the troops of Bashar al-Assad and the group of "Dzhebhat al-Nusra" (banned in the Russian Federation) in the past 24 hours. The SAR servicemen managed to discourage the radical peaks of Daher Al-Aswad and Talul Al-Najar from the radicals, which made it possible to further tighten the encirclement ring.
In the morning, the Turkish armed forces entered the province of Aleppo from the north-west. Recall that this part of the province is occupied by the Kurdish National Self-Defense Detachments (YPG), associated with the Kurdistan Workers' Party (PKK), which is among the terrorist groups in Turkey. Ankara has for a long time been pushing military equipment and soldiers to the borders of Afrin, surrounding him. However, information about the start of full-scale armed clashes has not yet been reported.
An-Nusra radicals, stationed on the western outskirts of Aleppo, once again intensified hostilities in order to divert the CAA and the Russian Aerospace Forces from advancing in the south of Idlib. Al-Hamdaniyah and Al-Zahra districts, as well as the school building in the Al-Jadid neighborhood, were under mortar shelling of militants. In the afternoon, the militants made their way to the outskirts of the provincial capital and seized the house of one of their local residents. However, the attackers were later arrested by members of the security services.
An-Nusra forces throughout the day tried to advance in the northern part of the province of Hama. The Islamists went on the attack north of the provincial capital and claimed that they had captured the settlements of Zelin and Az-Zilakiyat. Nevertheless, the radicals managed to take only the checkpoint from Zelin, who was later lost by the militants as a result of the massed air attack of the Russian Aerospace Forces.
It became known that Washington was preparing a new armed unit in Hasaka province. The fighters of the so-called "New Syrian Army" will oppose the government forces and the legitimate president Bashar al-Assad. Local activists claim that the main core of the new organization is the terrorists of the "Islamic State" destroyed in the SAR and Iraq (IG, grouping is prohibited in the Russian Federation). In the afternoon, eight US helicopters were redeployed to the US military base in Al-Shadadi.