Former Minister of Defense of Ukraine and leader of the Civil Platform Party, Anatoliy Gritsenko, commented on a letter from the former Georgian President, Mikhail Saakashvili, sent to Petro Poroshenko.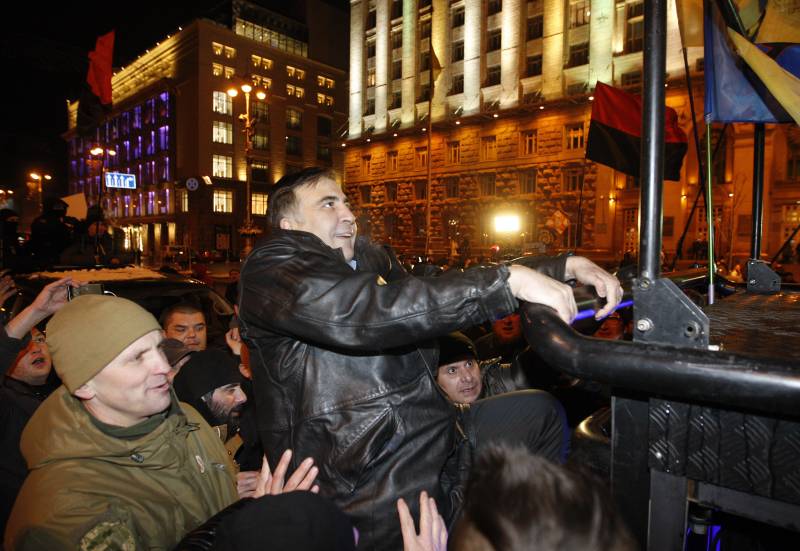 A personal letter from Saakashvili to the President of Ukraine, his statement about the need to negotiate with Poroshenko in the interests of the country, a public call to go out for the next march, in which the Poroshenko name is never mentioned, instead the criticism is addressed in the generalized "power" - such steps by Michael were unexpected for many of his supporters, who saw in Saakashvili a powerful ram, which is about to carry along with the chair "huckster on Bankova",
quotes Gritsenko
RIA News
.
He also noted that Saakashvili's supporters express frustration with the act of their leader. In addition, some of them even suspect the policy of colluding with Poroshenko.
In this regard, the ex-minister invited the critics of the opposition to present themselves in his place, before reproaching. He recalled that once Saakashvili was at the height of power, and "now he is" no one, "besides, he will be arrested in his native Georgia if he appears there."
Agree, Michael is difficult, very difficult. From here both failures, and mistakes, and overestimated-inadequate assessments of the moods in the country, which Mikhail now considers native, but objectively he is still far from her deep understanding,
noted Gritsenko.
Earlier, Ukrainian media reported that the disgraced politician gave Poroshenko a letter in which he offered to make peace. However, the team of the former Georgian president did not confirm this information.
Saakashvili was detained in Kiev on December 5, but supporters beat him off from law enforcement. After that, the protesters headed by him went to the center of Kiev for a rally. On December 9, the oppositionist was again detained, but already on Monday the court rejected the petition of the prosecutor's office to elect a preventive measure in the form of house arrest for him, as a result he remained free.