On the eve of the Russian focal point for reconciliation of the warring parties reported that the United States has created a base for training terrorists in the Syrian province of Haseke. The submission noted that, at the moment, militants are being trained around 750, of which the so-called "New Syrian Army" (NSA) is being formed. The emphasis is placed on the fact that the backbone of the NSA is the ISIL militants (* prohibited in the Russian Federation) in the amount of approximately 400 people. These are the igilovtsy who left the Syrian Raqqah not without the help of the American military.
Information that hundreds of igilovtsevs from Raqqa were taken to Hasek province is confirmed by the Syrian journalist Riyadh Farid Hijab. He writes that he personally spoke with the man whom the representatives of the so-called international coalition hired as a driver to transport the militants on a truck. Interlocutor Farida said that he delivered several igilovtsev with
weapons
in the province of Hasek, where they were transplanted to armored American cars and taken in an unknown direction. According to the interlocutor of the Syrian journalist, he was paid about 1 thousand dollars for this work.
Against this background, reports are received from the province of Deir ez-Zor about the continuing fighting of the Syrian government forces with the remnants of the igil group. Portal
AMN
reports that as a result of the successful advance of the CAA in the south-east of the province, several relatively large ISIL units were defeated (*). As a result, Syrian troops managed to take control of the town of Al-Salihia, which lately passed several times "from hand to hand."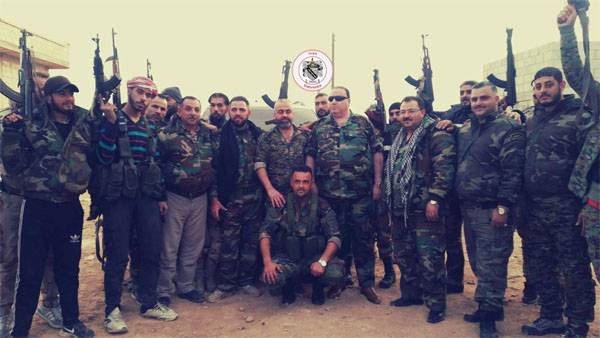 Currently, ISIS forces (*) are dispersed by small detachments (up to a hundred people each) in a very extensive area of ​​about 7 thousand square meters. km between Homs and Deir ez-Zor. The CAA does not allow militants to regroup to create a full-fledged combat-ready compound, systematically destroying one bandit group after another. At the same time, the US is making efforts to maintain the resistance groups of the CAA.