The thirteenth big press conference of Vladimir Putin pleased us with new political jokes and memes. But serious things were said, both external and internal, and they were said so that they turned into a "beating up of babies" at a press conference.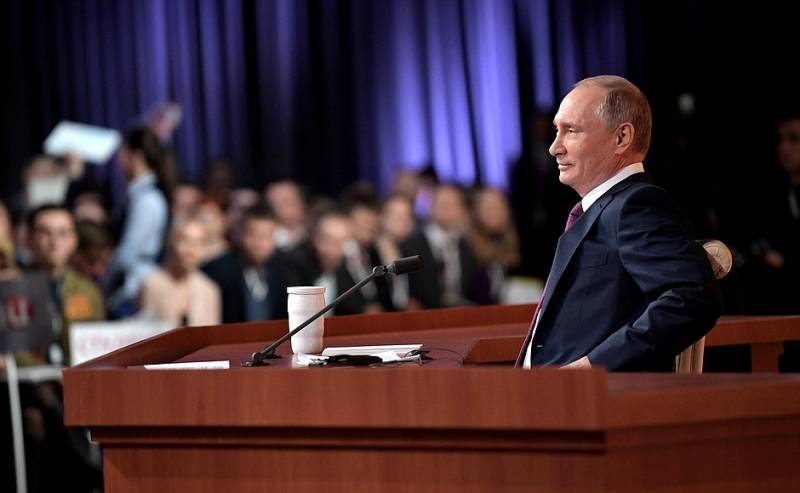 A strong move was made in Ukraine, for which purpose they used burned Banderovets, walking on our TV channels as a live vaccine, journalist Roman Tsimbalyuk. Putin himself gave him the floor. It was clear that he would declare a Bandera position on the Donbas, and in response received a prepared response from the president. On the armed coup in Kiev and the Nazi battalions, which killed Dondera who did not recognize Bandera.
However, all this was just an eyeliner for an important signal to all who need it to know: "Saakashvili in Ukraine is a spit in the face of the Georgian and Ukrainian peoples."
Such a heavy statement by Putin about Saakashvili is a blow to his American "roof", which relied on Saakashvili, pulled him out of the Pechersk court and turns him into the banner of a new coup in Kiev. Putin clearly drowns Saakashvili, of course, not out of love for Poroshenko, but he is trying to thwart the plan of a new coup d'état of the State Department in Ukraine, which leads to an escalation of bloodshed. And threatens war Moscow.
With this statement, Putin threatens Saakashvili's further state career in Ukraine: in the event of the demolition of Saakashvili and his Maidan, Poroshenko's power, Moscow does not recognize the new Kiev authorities. This will make Miho's puppeteers seriously think about his future fate.
Objectively, Putin plays into the hands of Poroshenko, but only in the situation with Saakashvili, in general, this does not improve his position at all, after all, Poroshenko also appears to be a liar, hanging the label "agent of Putin" on Saakashvili.
Baby Tsimbalyuk wanted to catch Putin on the "exchange of prisoners of war", to exchange Donbas militiamen, albeit with Russian passports, like the Russian military for Ukrainian saboteurs sitting in our prisons, so that Russia would recognize participation in the war in Donbas and even in the war with bandera. Because the exchange of prisoners can only be between belligerents.
In general, believing Bandera - do not respect yourself, they threw out millions of their fellow citizens with migrant workers to Europe, Poland, Russia and spits on their problems. To fight for our compatriots in the prisons of Bandera, as well as in the USA, it is necessary in other ways, perhaps by imposing sanctions.
Putin made a rather ambiguous message to Washington: with a general, polite tone, he called the Washington congressmen "interesting guys", who put Russia on a par with North Korea and immediately called on Russia to help solve the North Korean problem. "They are normal people there, in general?" Judging by Congress's hero McCain, they are not very normal, Trump alone does not consider McCain to be a hero, which characterizes him positively. And Putin spoke positively about Trump and his affairs.
Ksenia Sobchak came to the press conference in a red dress, apparently from "Home - 2". The main thing in this house, judging by her question, is Navalny, whom she would like to send to the presidency too. The whole "House - 2" supports them with Navalny, the problem is that all of Russia cannot tolerate "House - 2" and its inhabitants. However, Ksyusha is not given to understand this, for she is a "monkey" in red - as Nikita Isaev, the ex-producer of the "Football Academy", characterized her in the "60 minutes" program.
Isaev himself in the discussion of the president's press conference was distinguished by a howl of the "wolf wolf shot through": Everything is lost! Everywhere is gone! Everywhere where Nikita happens - everything disappears, because he walks everywhere in the swamps. Where Isayev is not - everything is not lost. Its method is simple: blame louder, something will stick. The swamp swill clings to Isaev: Nikita has a good last name, Stirlitsevskaya, but he managed to smear it in the swamp. One thing is not clear: why Isaev called Ksenia Sobchak a "monkey" in a red dress? Apparently, he considers a competitor in the swamp? And why does he constantly shout and shut up all his mouths, like Napoleon, under the demagogy of political competition? You are mad, are not you?
Of the liberals, the "political scientist" Dmitry Nekrasov distinguished himself, again offering to surrender to America, because she has a larger budget, by the way, a participant in the forum of traitors of "Free Russia" in Vilnius, which, it turns out, is not at all accidental, and the former scientist Boris B. Nadezhdin, who perceived the ruling regime of Russia by Putin, even the Baikal omul. But the correct answer is very close: other journalists, like liberals, have Putin, in the words of Joseph Stalin.
And these small, insignificant people, in the words of the great Panikovsky, want to sow panic in Russia? They make a public hara-kiri in the eyes of the respectable TV audience, and they do not even understand it. They think they are speaking in front of their swamp!
Nezavisimaya Gazeta editor Konstantin Remchukov came to a profound conclusion about the need for an abstract "political competition" in Russia, acting as the ideologist of the swamp. There is no such competition anywhere in the world, except for the brains of utopian liberalists, but there is a competition among political elites, feel the difference!
See how it is happening now in America that the American elites did the same with the great Trump. The "Great" Macron in France, instantly destroying the entire French political system, the unsinkable Merkel in Germany, England's Cameron, who plunged into the water after Brexit after England, is the power and competition of Western political elites, not of Ksyush and Navalny. Until now, the Soros stupidity of the living, the democracy of Poroshenka and Saakashvilyat, under the supervision of the American ambassador, is dreaming. In Russia, only Putin's elite was formed. Doesn't Putin grow our other elites? What he hinted at ...
The highlight of the Putin press conference was, of course, a joke about the dirk. This Putin's "dirk" will become a meme, and to all our swamp babies, Putin presented a watch that always shows 12-30.