The press service of the organization Red Crescent presented the latest data on the number of dead and wounded during clashes with Israeli security forces of Palestinians. A spokesman for the organization Ehrab al-Fuqaha reports that four Palestinians were killed in clashes last Friday, almost 900 (!) Were injured, injured and injured. Counting the number of dead and wounded is carried out since the moment when Palestinians began to take to the streets as part of the protest against the recognition by the US President of Jerusalem as the capital of Israel.
Erab al-Fukah (quote
RIA News
):
Four Palestinians died today (December 15 Friday) - two in the Gaza Strip, one in Ramallah and one in Jerusalem, they were killed by Israeli soldiers during clashes. The number of injured in the West Bank and Jerusalem was 661, 227 was injured in the Gaza Strip. Among them, ten people were seriously injured.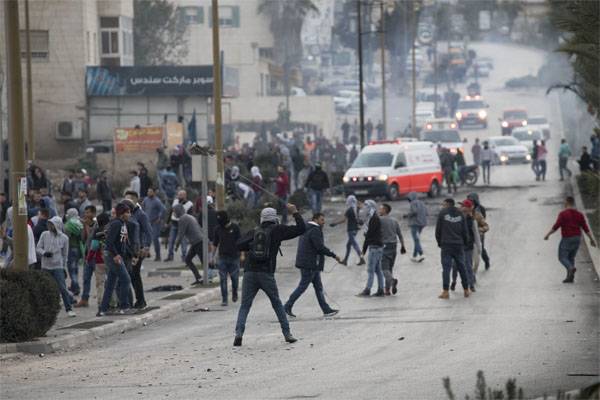 Among the injured 104 received gunshot wounds, the rest suffered health damage from rubber bullets, batons and the use of tear gas.
In turn, Israel claims an increasing number of injured Israeli security officials. Thus, on the eve of a Palestinian carried out an attack on Israeli border guards to the north of the city of Ramallah. The press service of the IDF reports that he stabbed one of the border guards with a knife in the shoulder. The Palestinian was neutralized, the soldier was sent to the hospital. At the same time it is claimed that something resembling an improvised explosive device was fixed on the body of the attacker. Examination is carried out.