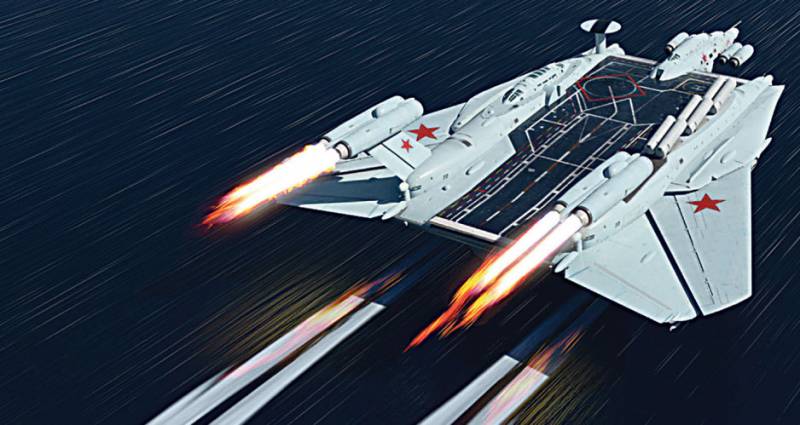 Today, the largest aircraft have a maximum take-off weight of about 600 tons. These are An-225 Mriya and A-380. The screen effect increases the lifting force of the wing by two to four times. By
naval
classifications - almost a frigate, far from an aircraft carrier.
When using integral forms of a ground-wing glider ekranoplan, for example, a direct single wing offered by Vladimir Yatskov ("Farewell Montana cargo ship returns"), it is possible to create in the medium term an acceptable design with a maximum take-off weight of up to three thousand tons, which is very decent. Cruising speeds that provide maximum screen effect will vary from 300 – 350 to 500 – 550 kilometers per hour (300 knots).
Based on this, we estimate the range of action and the autonomy of the combat wig. An-225 takes when flying to the maximum distance 230 tons of fuel - 38 for each engine. Approximately the same figures for An-124 and other large aircraft. Take as a basis for calculations. It is important to note that in the on-screen mode, the E-plan, other things being equal, can cover a greater distance on 25 – 30 percent than an aircraft at medium altitudes. This means that at cruising speed when loading fuel 40 tons per engine, the range of our "frigate" will be 17000 – 19000 kilometers. But the amount of fuel can be brought up to 1200 tons (vs. 800 calculated). And then we get 26000 – 30000 kilometers. For an ordinary ship of a similar displacement, the range is unreal.
On the main limiter - the fuel, we calculate the autonomy of the wig: from three to four days. This is comparable to the duration of the first operations in modern warfare.
Minus the estimated weight of the structure (including the booking), we get the permissible weight
weapons
for this type of ships - from 300 to 600 tons. It is enough to accommodate a powerful arsenal.
Management at AUG
Important details that determine the importance and necessity of ekranoplans for the Navy: movement at low altitude and high take-off weight. The first factor makes them a bad target for air-to-air and ground-to-air missiles. Equipping the upper surface with composite armor capable of withstanding warhead fragments gives the ekranoplans almost one hundred percent invulnerability. Shooting RCC on them is ineffective due to the high speed movement.
The main threat to the ship - fighters and attack aircraft with guns and NURSami. However, there is the problem of detection and targeting. When the radar of the aircraft in the mode of selection of moving targets (MTS) on the course angles close to the traverse, "blind zones" occur: the stations will not allocate an ekranoplan as a moving target. The vessel can only be detected from the bow and stern of course angles. This is an extremely tough nut for air defense, which largely determines the real scope of such equipment in our fleet.
First of all - the fight against aircraft carrier formations and groups with powerful protection. The high speed of E-plans eliminates the departure of enemy surface forces from the blow. Significant dimensions will allow for the placement of anti-ship armament ammunition on board, sufficient to use four or five flying ships to crush even an aircraft carrier group (or at least inflict such a defeat, which will deprive its ability to resist, leaving other forces of a heterogeneous attack to be torn apart).
When equipped with hypersonic Zircon anti-ship missiles, even a single ecruplan can do it. Its air defense system for countering fighters in combination with constructive protection will provide high combat stability even in the near defense zone of an enemy naval compound with actual invulnerability in the long-range and medium, from which the anti-ship missiles will be used. For additional exploration and target designation, such ekranoplans can carry small-sized, including disposable UAVs.
The likely appearance of the E-plan is as follows: displacement - 2500 – 3000 tons, cruising speed - up to 350 kilometers per hour with a range of 5000 – 6000 miles (range - 2200 – 2800 miles). The main armament: 16 – 24 RCC ("Onyx", "Caliber" or "Zircon"), an air defense missile system - modification of medium range for firing at air targets with 16 – 24 ammunition unit (for destroying enemy fighters to the missile launch), one two 30-mm AU, four - eight small UAV intelligence. The emergence of such E-plans will make it possible in the medium term to solve the problem of combating aircraft carrier and other surface groups of the enemy. Such vessels will require eight to ten in each of Russia's oceanic fleets.
On closed MTVD, E-plans can be used for the destruction of small ship groups, mainly in areas with powerful air defense and anti-hacking defense. To do this, it is enough to have ships with a displacement of 100 – 150 tons, a speed of 250 – 300 kilometers per hour with a range of 500 miles with four to eight short range anti-ship missiles and one to two AU MPA caliber 30 millimeters for close combat with fighters. For the Baltic and Black Sea fleets, four to six such E-plans are enough.
Visitors from the future
Another important task, in the solution of which WIGs can be very effective, is the fight against submarines, especially submarines armed with ballistic missiles.
For greater autonomy, anti-submarine airship for action in remote areas should have a displacement of up to three thousand tons. The search-aiming complex can be created on the model of an aircraft: a system based on the RGAB and a magnetometer, as well as equipment for detecting the wake. Means characteristic of displacement ships and submarines are unacceptable for this type of vessel. The arsenal is also aircraft: 8 – 12 small anti-submarine torpedoes. Autonomy should be comparable to the duration of the anti-submarine operation - a few days. Since it is necessary to operate in the air defense zone, the e-plan needs an air defense system with a range of 120 – 160 kilometers at air targets and one or two AUs MPA 30 caliber millimeters. To collect information from the RGAB, taking into account the low altitude, it is advisable to have two to four reusable small-sized UAV repeaters.
If we accept that the search capabilities of submersibles with ekranoplan are equivalent to aircraft, the probability of destruction during the operation of a SSBN of the USA in the areas of their combat mission by forces of six to eight such ships can reach 0,5 – 0,6. This is an exceptionally high figure when compared with today's 0,02 – 0,05. As part of our ocean fleets should be on 10 – 12 such ships.
Flying ships can play an important role in landing. Their speed qualities make it possible to overcome the enemy's fire resistance zone in a time that almost eliminates effective resistance. This is important for the first, most mass wave of the landing, an exciting bridgehead with a powerful, layered PDO.
The size of such an E-plan should be maximum - about three thousand tons. Since the condition for the success of the landing operation is the conquest of supremacy in the air and on the sea in the landing area, such means of self-defense as in shock and anti-submarine counterparts are not necessary in this case. It is enough one or two AU MPA to repel attacks single EHV. However, the need to suppress PDO. Here various MLRS are best suited. This may be a "Hurricane" or the latest modifications of "Grad". Given the likely volume of fire missions on board such a landing craft, it is advisable to have 12 – 16 guides for MLRS caliber 220 millimeters or 40 – 60 120-mm with double ammunition. With such equipment, an ekranoplane with a displacement of three thousand tons can accommodate a company of marines with standard armament and equipment. Hence the need for 12 ships in each fleet (both ocean and sea).
Destruction of enemy ground targets could be carried out by strike E-plans designed to combat surface ships. When equipped with Caliber missiles in the variant for firing at ground targets, one such vessel will be able to destroy up to three relatively large targets and 7–9 point targets per exit. Having the ability to restore combat efficiency after firing in terms comparable to the time required for a second flight
aviation
E-plans will be able to solve an operatively significant volume of fire missions in a relatively short time.
These are the main and most important tasks solved by ekranoplanes with high efficiency. However, such powerful ships are not always advisable to attract, for example, for patrols. Tasks that do not require significant combat potential may be assigned to vessels of lighter classes (within 200 – 400 tons), which will be designed as a dual-purpose technique.
WIG has a good future. Our country still retains primacy in this area and it must be urgently substantiated, until the idea was intercepted by others, as it was already more than once in post-Soviet Russia.
Atom on departure
Is it possible to equip WIG nuclear power plants? Attempts to create atoms were made at the end of 50-x - the beginning of 60-s. Neither in the USSR nor in the USA did anything work out. We have tried to put nuclear engines on the Tu-119 (Tu-95) and M-60. There was an atomic An-22 experience. The main problem that remained unresolved, both in our country and in the Americans, is the strong radiation of a reactor operating in a more intense regime than on ships and submarines. It was supposed to accommodate a crew of two pilots in isolated compartments with biological protection weighing more than 30 tons. At the same time, after the flight, the board could be incredibly strong fonit, and work on it was allowed only after several weeks after landing. Even for the simplest regulations, the entire engine compartment was required to be undocked, not to mention the need for special aerodrome support and related equipment. Technologies that allow the operation of a ground-effect vehicle with a nuclear installation on board (and a sufficiently large crew) have not yet been created.