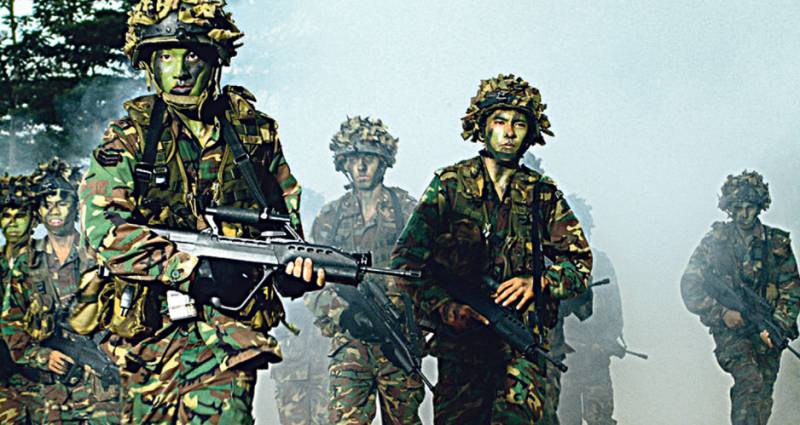 Singapore is a unique island city-state. With its microscopic size and relatively small population, it has a powerful economy and serious armed forces. By militarization in terms of the territory and the number of inhabitants, this country, apparently, surpasses even Israel.
Singapore also has a law on universal conscription, which excludes any delays and alternatives to service and implies annual two-week fees until the age of 40 is reached. In this case, the boy receives the first symbolic agenda for the recruiting station immediately after the birth, along with a birth certificate.
Part of the technique, especially
aviation
It simply does not fit in the country and is constantly deployed abroad. The country buys weapons mainly in the USA, Israel and Great Britain, while its own defense industry is developing rapidly. Although 75 percent of the population is ethnic Chinese, Singapore has no military ties with China.
Ground forces include 5 divisions - 3-yu (consisting 8-Armored and 3, 5, 24, 30-th infantry brigades), 6-yu (54-Armored, 2, 9, 76-th Infantry Brigade) 9-i (56-i armored, 10, 12-I infantry brigades), 21-i (7, 13, 15-i infantry brigades), 25-i reserve (11, 14, 63 and NNXXXXNXXXNXXX, 65-I infantry brigade). . Plus 6 infantry brigades (21, 22, 26, 27, 29, 32-I), a group of MTR, a regiment of Gurkha, which is formally listed in the police, and a number of auxiliary units.
The base of the tank fleet is 152 German Leopard-2A4s, some of which are located in Germany and are used to train Singapore crews. Remain in service 340 obsolete light French
tanks
AMX-13SM1. Of the 44 French BMX AMX-10Ps, half are in the BMX version of the AMX-10PAC90. There are locally produced infantry fighting vehicles - 135 AV-81 Terrex, 250-300 IFV-25 Bionix, 200 Bionix-2. BTR - American (945 M113A1 / 2, 50 V-200, 15 MaxxPro) and their own (more than 400 Bronco, 300 IFV-40/50). Barrel artillery of only its own production: 54 self-propelled guns SSPH-1 Primus and 124 towed guns (18 FH-2000, 54 Pegasus, 52 FH-88). There are 121 towed guns in storage - 22 British LG1, Israeli M-68 and M-71 (45 and 38, respectively), 16 American M114A1. There are 500 81 mm mortars and 90 120 mm self-propelled (40 on the Bronco, 50 on the M113). MLRS - 18 latest American HIMARS.
ATGM - 30 newest Israeli "Spikes" and as many old French "Milanov".
The air force has four fourth-generation American fighter jets - the 100 F-40SG and 15 F-60 (16 C, 20 D). As it was said, the planes do not fit in Singapore, therefore they are based in the United States. The old American fighter F-40 (41 S, 5 training and combat T) and up to 32 even older attack aircraft A-9SU (including before-combat 25 TA-4SU) remain in service with the 21. The latter are based in France and are used as training. Only F-4 are stationed in Singapore, which have undergone a major modernization. There 5 Dutch basic patrol "Fokker-5», 50 US aircraft AWACS "Gulfstream» G4, 550 tankers of the same production (9 KC-4R, 135 COP-5), 130 Transport (9 C-5N, 130 "Fokker-4 "). Of the 50 training aircraft, the 33 Swiss PC-19 is stationed in Australia, the 21 of the newest Italian T-12 in France. Two more - New Zealand PT / 346.
The 19 American combat AH-64D Apache and 6 anti-submarine helicopters S-70В, and also up to 48 transport (16 American CH-47 Chinook, French AS332M and AS532UL) are in service. The Apaches and part of the Chinooks are stationed in the USA, the French cars are in Australia. As a training used 5 European helicopters EC120В.
Ground defense includes 2 batteries of the American Advanced Hawk air defense missile system (12 PU), 24 short-range air defense missile systems (12 Israeli Spiders and English Rapier) and 555 MANPADS (500 French Mistral, 30 Russian Igl XYLXX), and 6 MANPADS (5 French Mistral, 113 Russian Russian Needles, IgrX XGNUMX) (25 French Mistral, 70 Russian YiglX IgrL XYNUMX) self-propelled version - on 58 PU on 34 BTR M001), 24 Swedish RBS-002), XNUMX Swiss anti-aircraft guns (XNUMX GDF-XNUMX, XNUMX GDF-XNUMX).
The Navy has 2 PL "Archer" (Swedish "Vastergetland") and "Challenger" (Swedish "Sheormen"), 6 frigates "Formidebl" (French "Lafayette"), 6 rocket corvettes of "Victoria" type (German project) , 1 patrol ship Independence (another 7 will be built), 11 patrol boats Firless, 4 minesweeper "Bedok" (Swedish project), 4 DTD "Endurance". Submarines transferred to Singapore from the Swedish Navy, all surface ships and boats built at their shipyards.
The Changi naval base is constantly used by the US Navy. In addition, the contingents of Great Britain and New Zealand are stationed in the country. At the same time, the Singapore ground forces are located in Thailand and Taiwan.
There is no immediate external threat to the country at the moment, but wars of any scale are possible in the region. In this regard, the meager size of the territory and the deployment of a large part of the Armed Forces outside of Singapore can create problems for the defense.