The forces of the militia of Iraq, who fought with the terrorists of the IG grouping banned in Russia *, had an unusual wheeled self-propelled gun at their disposal. They took a simple car crane and installed a Chinese 130-mm gun on it. Type 59-1.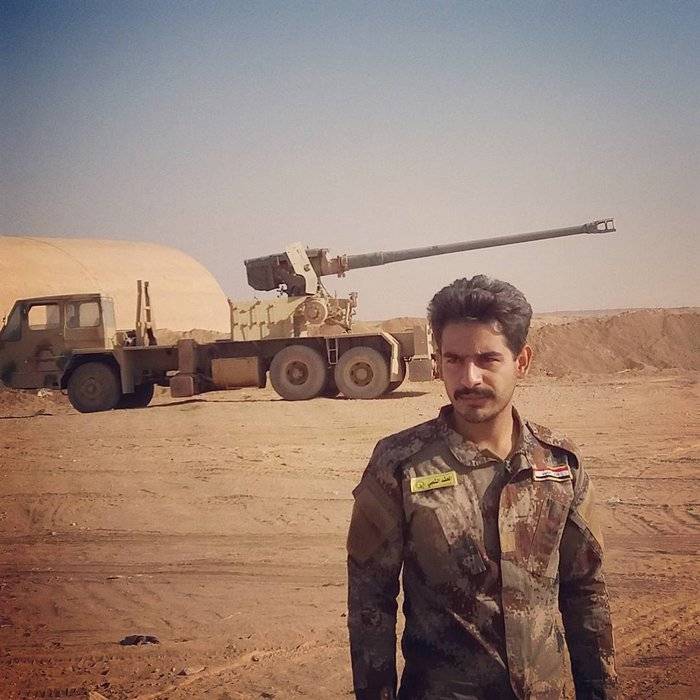 The result was an artillery system with good mobility and the ability to conduct roundabout fire.
As a military expert told Yuri Lyamin, volunteer militias fighting against militants traditionally have a shortage of military equipment. Therefore, they are actively engaged in the restoration of what remains of the old army of Saddam Hussein.
At one time, under Saddam, the armed forces purchased a large quantity
weapons
in the PRC. Including such tools here. 130-mm gun Type-59-1 is the Chinese version of the Soviet M-46. This weapon was actively used by the armies of Iraq and Iran during the war between these states in the 80s
- noted Lyamin
This artillery system was used in the armies of the opposing states, primarily because of the good range: up to 27,5 km of high-explosive fragmentation and up to 42 km of active-reactive projectiles.
In contrast to the Soviet M-46, the Chinese version turned out to be more lightweight - 6,3 tons instead of 7,7 tons. The rate of fire reaches 6-7 shots per minute. Calculation - 8 people. Given Iran's involvement in the events taking place in neighboring Iraq, it is not surprising that local militiamen supplied ammunition for Type 59-1 from the defense enterprises of the Islamic Republic. According to reports, for the 130-mm guns, the Iranian military-industrial complex produces high-explosive, lighting, smoke and projectiles with an increased range of fire.