Today in the White Sea Naval Base of the North
fleet
ceremonies will take place dedicated to the 35th anniversary of the largest nuclear submarine in the world - the heavy strategic nuclear missile cruiser (TARPKSN) Dmitry Donskoy, reports the Department of Information and Communications of the Russian Ministry of Defense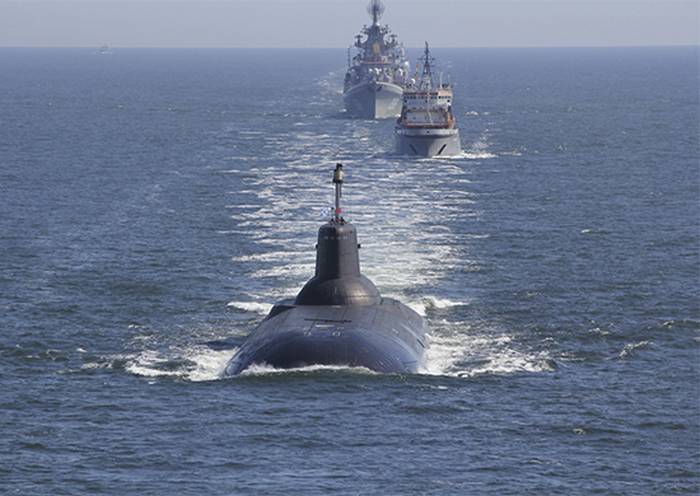 The crew commanded by Oleg Tsybin, captain of the 1 rank, celebrates the jubilee of its cruiser with high rates of combat training. In 2017, the Dmitry Dmitry Donskoy TARPKSN fulfilled all the assigned tasks, took part in the Main naval parade on the Kronstadt raid, made an inter-fleet crossing twice - from the Barents Sea to the Baltic Sea and back, performed combat exercises at sea, and regularly participated in testing new designs sea
weapons
. In total, during the year the submariners spent several months at sea
- Reported in the military.
The commander of the Northern Fleet, Admiral Nikolai Evmenov and the commander of the White Sea Naval Base, Rear Admiral Arkady Romanov, commanding this ship in 2000 in the early days of testing the intercontinental ballistic missile of the sea-based Bula, congratulated the crew of the heavy submarine cruiser Dmitry Donskoy.
TARPKSN "Dmitry Donskoy" is the lead ship of the project 941. It was built and commissioned by the Navy in 1981 at the Sevmash shipbuilding plant in Severodvinsk. Since 1982, he has been solving problems in the Northern Fleet. In 2002, the cruiser underwent a deep modernization and was later used for test purposes.
"Dmitry Donskoy" is the world's largest operating submarine. Its displacement in the surface position exceeds the displacement of the flagship of the Northern Fleet - the heavy nuclear-powered missile cruiser "Peter the Great". On board, the most comfortable conditions for living personnel have been created, there is even a sauna with a swimming pool and a gym, an exposition dedicated to the victory of Russian weapons in the Battle of Kulikovo is located in the mess room.