Fulfilling the decision of the Main Automobile and Armored Directorate of the Ministry of Defense of Russia, the 81 Armored Repair Plant (BTRZ), part of the Uralvagonzavod group of Rostec State Corporation, carried out major repairs of the armored personnel carrier BTR-82AM. In the coming days, the prototype machine will enter the stage of preliminary testing.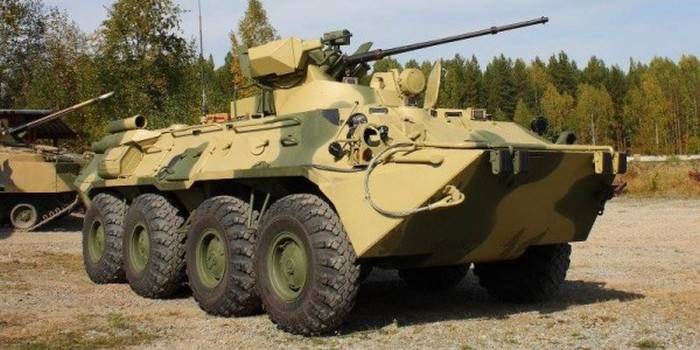 The company specializes in the overhaul and modernization of the BTR-80 armored personnel carrier with its reduction to the type BTR-82AM. The next step in the development of production is mastering the technology of repair of these machines. The BTR-82 AM armored personnel carrier is significantly different from the BTR-80 in terms of armament, night vision devices, sighting systems and communications equipment. For its repair requires special technical equipment and accessories for work.
In the coming days, in accordance with the program, the BTRZ specialists will begin to conduct preliminary tests of an experimental product, after which participation in the tender for the state order of the Russian Ministry of Defense is possible.
The BTR-82AM is a combat wheeled amphibious vehicle for transporting motorized rifle units and marine infantry units capable of providing fire support on the battlefield. The BTR-82AM is a deep modernization of the BTR-80 and was adopted by the Russian army in the 2013 year.