According to the Indian magazine India Today (almost a month after the event), on November 19, 2017, in the secrecy of the Indian state shipbuilding company Ship Вuilding Center (SBC) in Visakhapatnam, the second Indian nuclear submarine of national construction was launched, which received name Arighat. The completion of the ship is carried out in a closed mooring complex-boathouse SBC. It is planned that the boat will go into operation of the Indian
fleet
in 2020-2021, the bmpd blog writes.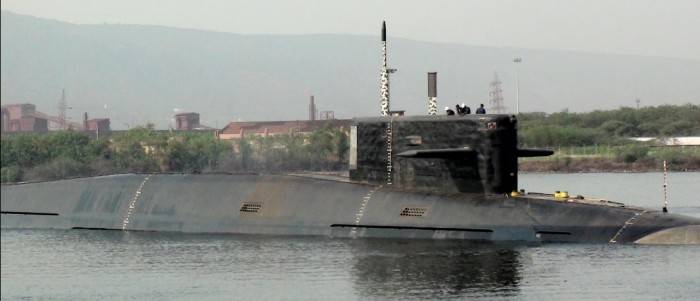 One of the few publicly available high-quality images of the national headquarters of the Indian nuclear submarine of the national construction S 73 Arihant. The picture was taken in the summer of 2014, in Visakhapatnam, even before Arihant went to factory trials
The head Indian nuclear submarine S 73 Arihant was launched by construction on the SBC in 1998 and launched on July 26 2009. The physical launch of the nuclear reactor on the boat was performed on 10 August 2013 of the year, and the boat entered the factory running tests 15 December 2014 of the year. In August 2016, the Arihant submarine was unpublicized transferred to the Indian Navy, although in fact it continues to be in the testing phase.
The second one-type Arighat boat was actually launched by construction in the 2009 year and officially laid on the SBC in July of the 2011 year, launched now.
It is reported that at present the following two nuclear submarines under the symbols S4 and S4⃰ are in the initial stage of construction on SBC. According to Indian sources, the submarine S4⃰ refers to a modified project approved in 2012 and will have a displacement of approximately 1000 more The length of 10 meters is greater than Arihant, Arighat and S4 (the surface displacement of which is estimated at 6000 tons, and the length is 111,6 meters).
Boats built under the ATV program are nuclear submarines. The first three Arihant-type boats as the main armament should nominally carry four (previously mistakenly asserted 12) developed in India under the direction of DRDO K-15 Sagarika underwater launch ballistic missiles with a nuclear charge of all 700-750. The S4⃰ boat will receive an additional 10-meter missile compartment with four more K-15 missiles, which will increase their number by boat to eight. The first practical launch of the K-15 rocket from the Arihant submarine was carried out on 31 March 2016.